Photography:
Purnesh Dev Nikhanj; courtesy Studio Ardete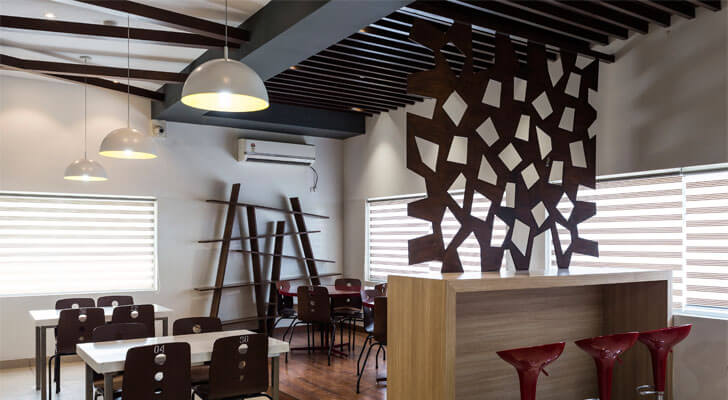 .
Guided by design Studio Ardete, an old factory warehouse in Ropar, Punjab is now transformed into Café Zero – the livewire social centre for factory staff…
For the factory staff and by the factory staff is the exceptional mantra behind this simple adaptive re-use space, which is fast becoming the soul of rejuvenation at Ropar's pharmaceutical factory.
Born out of a dire need for a decent space to dine in, and double up as an ideation hub, informal meeting point as well as act as a breakout area, the approx. 1340 sq. ft space is chiseled organically, drawing out the optimum from material that has been scavenged from the administrative building, being built for the same factory.
Two significant issues were being addressed here: with very limited access to eateries and cafes, the workers needed a space, where they could have their meals in a comfortable atmosphere; and second, the budget to effect this was practically nonexistent. Naturally, the latter became the critical parameter in defining the interiors.
The simple, racy, but diligently culled out space has a spattering of umber balanced into a white shell brilliantly speckled with some verticals, orbs and random geometry that accomplish both: illustrate function as well as chisel the ambience. Recycling some and adjudging the re-usability of the other scavenged materials, the entire design is lovingly fabricated and erected by the workers themselves after their work shift.
Left-over ply boards are now screens and partitions; steel bars are interpreted as trendy suspended ceiling elements; even the furniture and window blinds are salvaged from an old training centre being renovated, thereby minimizing cost. Maintaining an open, visually connected atmosphere, solids are juxtaposed with voids to effect a backdrop for the high bar and its accompanying stools – creating a focal pocket in the space.
With the overall exercise treated with finesse and diligence to detail, one cannot really tell what has gone into its making, unless the story unfolds. And it does with pride and love of labour; as Café Zero is also christened by its makers – the workers!