Diwali Special 2016
Compiled by TeamIAnD
Photography: Courtesy the readers
Read Time: 2 mins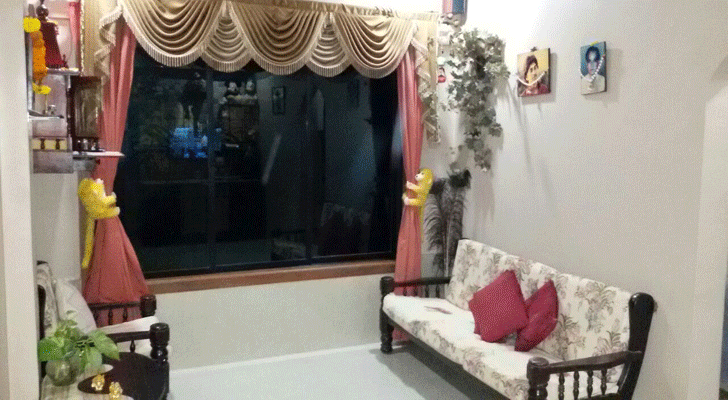 Self-styled home by Mukesh Chauhan
Action Tesa celebrates Diwali with IAnD readers, showcasing their self-styled rooms/ homes/ offices; even bespoke areas. IAnD collates a few select entries…
Reaching out to our readers to showcase their personal self-styled spaces has garnered an overwhelming response. This activity was powered by Action Tesa, India's leading brand of laminated wooden flooring, MDF, particle and acrylic board, designer door and laminated board, which is every homemaker's preference, when it comes to selecting the best material for their interior applications.
Mukesh Chauhan, Surat:
"My wife and I have lovingly built our home and gradually added to it over the years. We love our home."
Sayli Patil, Pune: "Adding on to my favorite corner of the house, a little more everyday. With contrast colours, balanced composition gives me a perfect 'chill zone'"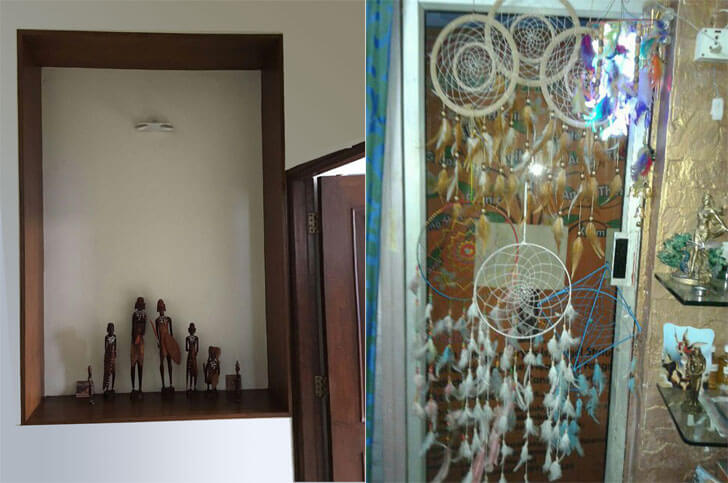 Umesh Kumar's niche Sonu Punjabi's Dream Catchers
Sonu Punjabi, Mumbai: "
Weaving dreams into reality is my passion!"
"It can be seen in these beautiful Dream catchers that are a perfect adjunct to my shimmering gold painted wall and my favourite corner of knick-knacks."
Umesh Kumar, Hyderabad: "Concealed window niche, a perfect area to display collectables; adding life to a dead corner."
"We had this odd window opening directly into the lift lobby and decided to close it. However, after concealing, it became a dead wall. So we decided to use the same window frame to compose a niche and create a nice display area for our collectibles. We keep changing the collectibles. We even keep our succulents there to add more life to them."
Crystal D'souza:
"This is the entrance to our house. I love a garden but since we live in a flat, that's a far away dream. Hence, I have plants in broken mugs outside my window. The thing I love most about this space is the sight of the plants, when I enter the house after a long day! It relaxes me instantly."
Rutvi Ashar, Pune:
"Getting out of bed has never been easier!"
"
Waking up to an oxygenated corner of the home, where my family enjoys their first cup of coffee; this calm nook on our terrace is perfect for reading the early morning times. We all love this space as there is an abundance of light without the natural glare of the sun, greenery surrounds us as birds chirp their way into the morning! Lingering here, we make memories till time pushes us to rush to work!"
Kaushambi Shah, Mumbai: "This painting of dolphins and the sea brings the calm of the sea into my bedroom."
"As it's a small room and I spend a lot of time here, I felt I needed some calming influence. So I got sea-green veneer done and painted a sea theme on one of the cupboards. It's in acrylic paint done by knife technique."
Kaushambi Shah, Mumbai: "It adds sparkle to the decor"
"This corner in the living room was reserved for a light feature. But I couldn't find anything adequate. So I got these glass orbs, filled them with pebbles and a faux lotus with colour changing fairy lights."
Vidyarthi Bhavan, Bengaluru
Bengaluru's oldest (1943) dosa joint, the owner has the pride of several stalwarts from different fields portrayed in a uniform format adorning the walls of his humble eatery. It is said that the basic layout remains unchanged since its inception!