Photography: Sebastian Zachariah; courtesy the firm
.
KNS Architects designs a 3,000 sq.ft, single-family residence as a monochrome canvas resonating with elements from nature…
Diligently juxtaposing a dark tonality against a stark white shell, keenly peppered with 'natural flourishes', principals Neemesh Shah, Kanhai Gandhi and Shresht Kashyap create a plush, modern home with a green soul in a posh Mumbai suburb.
Panels of wallpaper featuring nature-inspired motifs; yellow textured wallpaper; a green wall infusing 'live' energy; organic amoeba-shaped furniture; elite lifestyle accessories… are juxtaposed against luminous backgrounds, allowing for dark and cool; ivory and ebony to co-exist harmoniously in a simple yet stunning contrast as each room exudes a distinctive aura. With a partially open-plan layout, public spaces open onto balconies and terraces forging a seamless indoor-outdoor connect, whilst well-demarcated bedrooms, den and kitchen ensure privacy.
Seeped in dense and light hues and natural and industrial materials, a balancing act can be seen right from the lift lobby. Spacious, open and creative, the interiors allude to highlights like a back-lit onyx bar; an acoustically treated leather-clad wall; or the living green wall with laser-cut Corian jaali and backlit ceiling that forms a tableau coupled with netted chair backs.
In fact, most of the décor exhibits well-executed settings that seamlessly blend into their surroundings, providing for the elusive glamour quotient.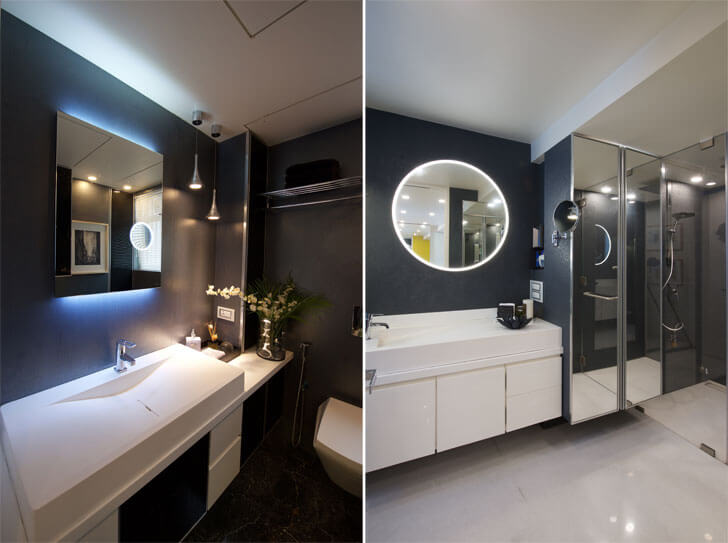 .
.
Divided only by sliding glass panes, the balconies and terraces complete with lounge seating, bar, water body etc., make entertaining a pleasure - heightened with a casual, chilled-out vibe.
The home spells understated luxury in a seemingly perfect juxtaposition of line and form, colour and texture, creating a timeless appeal, making a chic statement. Drip irrigation for watering the vertical garden and use of LEDs ensure a holistic green living that syncs in with the client's vision of being one with nature, yet firmly rooted amidst urban chaos.