Photography: Courtesy SNK Architects
Read Time: 2 mins
.
Ar. Brinda Somaya once again articulates space not just to define its requisite function but, to effect a more profound inner calling for a group of impressionable youth...
An architect's role in social change is a value-add to the structure that he proposes to build. Known for her sensitive, sustainable and nature-oriented methodologies in design, Brinda has often toed this line of thought, willy-nilly designing an edifice that is much more than what it purports to be functionally.
The 1500 sq. ft. prayer room at the Goa Institute of Management is conceptualised as a meditative space to foster quietude, meditation, and yoga and what-may-apply for a moment of serenity for the students of the institute.
For a multi-faith congregation space that needed no physical religious symbol, the space is designed to manifest the abundance of the open surroundings; the views of the laterite clad majestic hillocks; the football ground and the free-flow of light and wind energy.
.
With the campus located on a 50 acre picturesque land parcel at Sanquelim, north-east of Goa, the prayer room is situated in close proximity to the student and faculty residences; its simple facade contrasting with the laterite buildings. Yet, sustaining the contextual attributes of the marked laterite vein that runs through the site, the entrance wall of the prayer room is made from the natural stone and aesthetically flanked by a black sculpture to highlight the space sans a visible signage.
.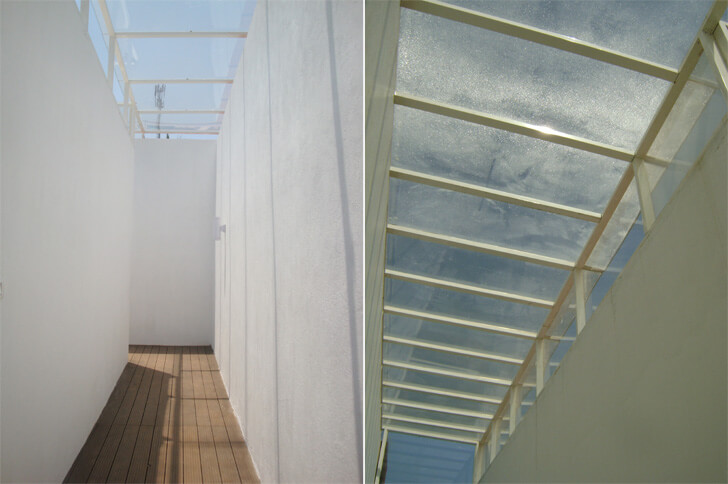 .
The steep drop of approx. 6m from the main access corridor connecting the various campus facilities is advantaged by positioning the building mass here and minimising cut and fill. Paradoxically, generating a keen sense of intrigue for a space of calm, the entry is split into two levels: one that gives the feeling of a vertical narrow corridor with laterite stone wall on one side and a glazed ceiling leading to the prayer room; and the second inside the prayer room, which lets one into the light-filled volume of the main space.
The building is so oriented that a large glazed facade on the south-eastern side lets in the early morning sunlight and a deep cantilever projection cuts off the heat later in the day, defining the architectural vocabulary of the built mass. The north-eastern façade too has vertical fenestrations, which create chiaroscuro elements inside.
The natural palette is sustained within, as the fenestrations are clad with Jaisalmer stone and juxtaposed with horizontal wooden members to add warmth to the space, in stark contrast with the exteriors. The internal volume accommodates 50 persons in the congregation area and has a raised platform along the southern and eastern edges, silently inviting; and underlining the fact that spirituality is a universal need. The building that appears humble is actually a strong meditative space – emoting and evoking the spartan linearity of one's inner calling.