Photography: Courtesy Shilpa Architects
Read Time: 2 mins
.
Shilpa Architects' Platinum LEED certified contemporary office in Chennai incorporates sustainable building technology with an open plan and indo-centric design.
Home to an architectural studio, a real estate investment office, an art gallery and an app game developing company, "The Muse" is a collaborative and free-thinking modern work place, adding to the list of contemporary workspaces across the globe. The staggered floor plate planning gives rise to a floating floor that allows for visual connectivity and a volume of space broken only by green, air-conditioning shafts.
.
.
Fractal 'jaalis', reused antique architectural elements and the involvement of local artisans put this project by Shilpa Architects on the radar of ingenuous spaces; but what really sets it apart is the Indianized design approach that endorses large inlets for natural light and vegetation screens on the south facade.
.
Interesting spaces have been carved out: the entrance lobby, "Aakhand" is a small area with a high ceiling and a burnt brick finish, designed to invite and envelop the visitor in an infinite space continuum; the break-out area is connected by a suspended glass staircase; the versatile Eastern facade is vertically broken into 3 articulated elements namely the "kanjivaram" inspired facade lights, bubble lit staircase and an antique ceiling of the employee lounge.
.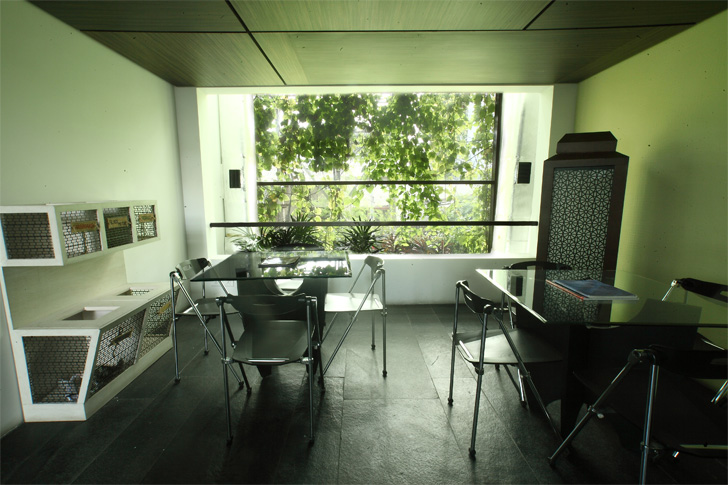 .
The entire office is naturally lit and provided with task LEDs for the evenings; solar powered air conditioning is required only after the chiller slab and green roof have reduced the indoor temperature. These techniques help in 30% energy and water savings, reduced construction and maintenance costs and a superior indoor environment resulting in higher productivity.
.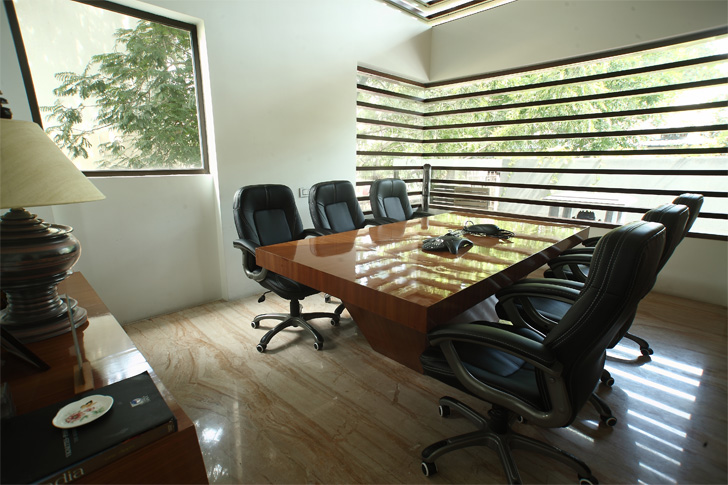 .
Words do no justice to this elaborately thought of design and its commitment to the environment; the architects pleasantly surprise us with their bold yet very reasonable decisions with respect to the environment.