By Rutvi Ashar
Photography: Courtesy Interface architects
Read Time: 3 mins
Interface Architects concoct a simple antidote to the age-old dilemma of lack of space: they design a spacious office across split-levels, incorporating all and more that the client desired...
With only a 20 ft. frontage on a trapezoidal 1260 sq. ft. plot, the architects had their work cut out for them - maximising the elevational impact despite this space constraint!
Using a split-level programmatic catering to the dual function of visual connectivity as well as communication across the multi-levels, a single stringer staircase complete with a sleek steel finished railing runs through the central axis acting as a buffer, bifurcating public and private zones.
Space optimization is aplenty both, at the planning stage as well as in the third dimension; where remembering to integrate micro climatic considerations and a long list of client needs seems a given. A built up area of 3500 sq. ft. accommodates a reception cum waiting lounge and open library, two conference rooms and two advocate cabins, a work space for 12-15 people, filing area, store, a small studio space with pantry and dining area, a landscaped terrace, not to forget comfortable parking!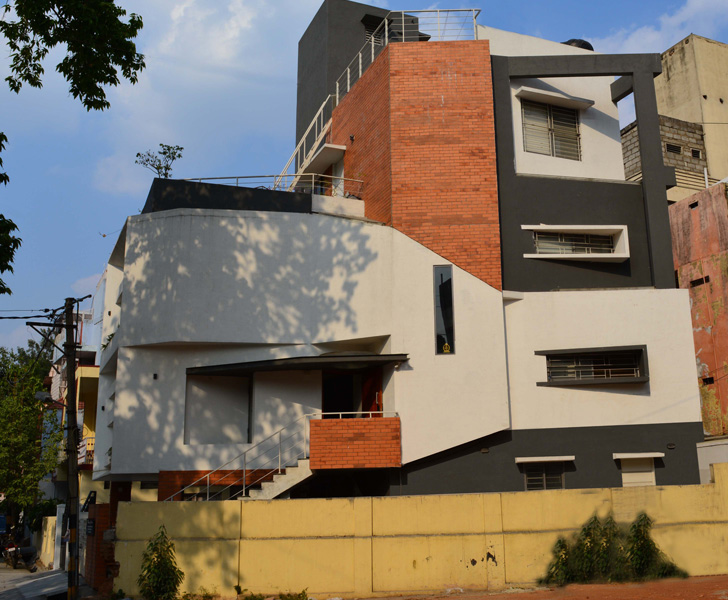 .
The facade is a remarkable blend of modern concepts and traditional cladding, where the sun shades and planter boxes make for an appealing frontage (west side/road facing), while the burnt orange brick cladding breaks the monotonous white. Deep recesses on the west shade the interiors and keep them cool; whereas skylights on the north invite in soothing natural light.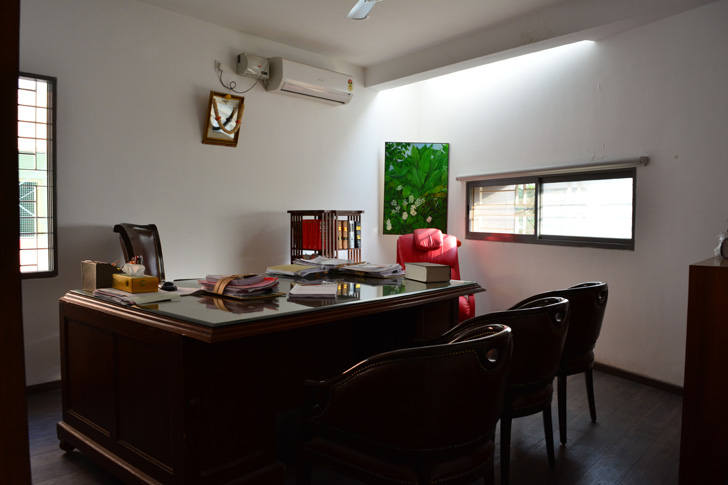 .
A very formal look is achieved by plush leather furniture, wood-finished panelling and glass partitions; however, a playful element is introduced in the form of a landscaped break-out space on the terrace that allows for informal interaction and office parties!
Distinctive massing, well planned levels, an overall luxurious vernacular look and optimum use of space highlights the creativity as well as practicality that is Interface Architects.