Photography: Mrigank Sharma; courtesy Mahesh Punjabi & Associates
Read Time: 3 mins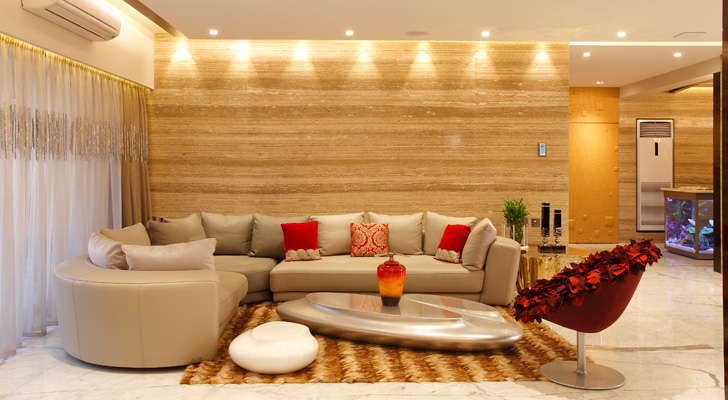 .
Mahesh Punjabi & Associates designs a chic, contemporary duplex apartment for a young couple in Pune's posh Kalyani Nagar…
Addressing the client's brief of wanting a trendy space; the designer composes an engaging vocabulary of materials, textures and bespoke furniture and art to bring to life a vivacious ambience suited to its young residents.
A tried and tested palette of neutrals - beiges, browns, and whites, with metallic highlights - hints of gold - make up the backdrop against which are set chic Statuario marble, Ziricote veneer and leather, defining the materiality and exuding a high-gloss, rich-finish look that adds to the visual allure.
The permeating warmth is augmented by uplighters, spots, standing lamps, spot lighting, and pendants etc. to cater to variations in moods.
Spaciousness is evoked viz. large swathes of empty spaces, a luxe bathtub, mirrors, floor-to-ceiling windows, and glass partitions that not only amplify seamlessness and volumetric dimensions, but also forge a connect with the outdoors.
Smartly, the designer uses striking visual cues to divert attention away from what he does not wish a visitor's eyes to linger on. For example, in the study, a vibrant 'girl with a headscarf' painting screens off the meditation room concealed behind the artwork. Similarly, in the pantry-cum-breakfast area, a coral tank grabs attention deflecting it away from the mundane service features like oven and gas top.
In the same vein, well-culled pieces of furniture, fine art and

artefacts anoint the interiors, giving rise to the art of narratives in the decor.

At certain places, the ceiling is also dramatized. For instance, in the pantry-cum-breakfast area, the ceiling dazzles like rays of the sun.
A youthful touch comes through in the entertainment-cum-bar area, where a wall is covered in philosophical quotes; bean bags inspired poufs provide a quirky edge. A curvy wash basin counter and asymmetrical mirrors break away from the otherwise linear forms making a bold statement.
An internal elevator connecting the floors; rugs, television sets in multiple areas; gilded finishes etc. foster opulence and glamour that is distinct and conspicuous in this home.