Photography: Santhosh Kanadala; courtesy Spacefiction Studio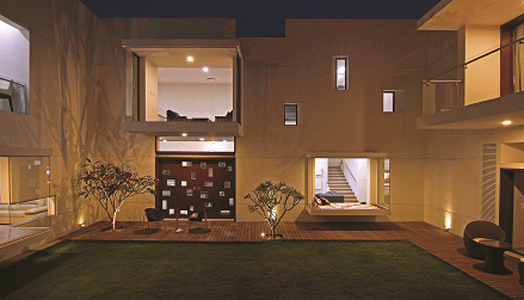 .
Flat wooden members juxtaposed against concrete planes; cantilevered spaces and asymmetrical voids define the elegant façade, whilst a north-facing court and an internal bridge lend strong architectural character to this U-shaped home in Hyderabad…
Situated on a linear plot along a busy road in a region, which faces harsh summer, the architects were delighted to use the high neighbouring wall that blocked out severe sunlight on the north side as a point of take-off for the design of this 6500 sq. ft., two-storey residence.
.
They carved out a north court with glass-box-like projections, a wooden deck and voids punctured into the façade – all looking into this space. In fact, this court takes on an omnipresence that pervades all spaces – either through a window while walking over the bridge or while sitting in a glass box or simply glimpsing through trellises; where greenery becomes a natural extension of internal spaces as well.
To shield the house against the noisy road, bedrooms are oriented towards the back with bathrooms and closets acting as buffer spaces against the Western sun, whilst the entrance is located near the dining/ kitchen area at the front.
Internally, the double-height ceiling is abutted vertically and horizontally by a raw-concrete bridge that is the only indication of an existent first floor; adding an element of intrigue.
The wooden-floored bridge breaks the monotony of the otherwise seamless marble flooring, whilst bringing in a touch of warmth. Use of timber ledges immediately evokes an Indian ethnic sensibility and extensive use of glass for the banister lends transparency and a visual lightness to the bridge - a moniker of studied acumen on the part of co-principals Vindhya Guduru and Baba Sashank of Space
fiction
Studio
.
Astute spatial planning nurtures spaciousness and is largely defined by absence of walls and partitions, where only function and placement chisel out different zones.
Heightening the overall aesthetic are chiaroscuro elements such as skylights and pergolas, providing a multiplicity of sensory experiences animating different spaces throughout the day; seemingly air-borne hand-crafted metal birds mural; a pretty pink-petals Plumeria tree and glass box flexi-spaces make it a minimal yet experiential, modern yet ethnic home.