Photography: Courtesy the architect
Ar. Kanan Modi of El+D emerges triumphant with a simply-perfect contemporary design with all the trappings of global spatial standards for Hyderabad based multi-national pharma corporate...
Responding to the client's brief of a firm to promote international business; the solution was conceptualized with a global design approach for a uniquely sophisticated ambience.
The 4-storeyed, 20,000 sq. ft. space is organized floor-wise into activity zones for visitors, work-pool and management. Based on pure and simple straight-lined geometry, the open plan design provides a bright, spacious and comfortable environment for team work and occasional entertainment….for the staff as well as visitors. Uninterrupted, well-articulated spaces quietly merge with adjoining areas, establishing continuity via judicious use of materials and colours
A basic palette of earthy tones combined with contrasting highlighters lends a unique touch to each zone. The bright coloured seating blocks and the green wall washed with abundant natural light is the focus of the grand, spacious reception area, while a bamboo clad wall infuses just a touch of drama at another level.
The awfully-bright parrot-green coloured partitions and seating blocks enliven the work zone, where asymmetrical lighting and a large white board break away from the rigidity to encourage informal sessions. The formal boardroom complements an informal lounge with panoramic views of rocky landscapes of Hyderabad's Jubilee Hills.
Traditional eco-friendly materials like wood and bamboo used in conjunction with glass, metal and concrete are designed and meticulously detailed for a harmonious spatial experience. Attention to detail is evidenced: the restricted use of Corian for the reception counter is well balanced with veneer and the grey backdrop creating a warm and alluring atmosphere. Exceptional detailing of the wooden bench cum planter above the pebbled bed lends an air of uniqueness, whilst the floor-to-ceiling clear glass partitions enhance spaciousness. Decorative lights and accessories liven up the cabins.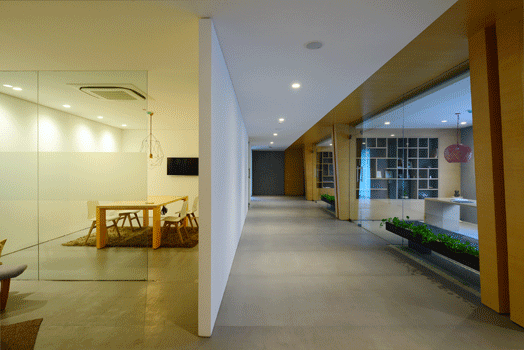 .
A perfect work environment to nurture talent and maximize one's potential.