Photography: Courtesy
Studio Mango
In a classic tale of East meets West, Dutch design Studio Mango is prepping to launch a sustainable and light-on-the-pocket designer brand christened 'Calaa' in association with
local artisans from Moradabad...
Armed with a challenging client brief from Mr. C L Gupta of Moradabad, Studio Mango add yet another laurel to their line of everyday quirk with 'Calaa' - derived from the Sanskrit word 'Kala', which broadly refers to any art form.
Drawing inspiration from centuries-old Indian handicrafts, this line uses state-of-the-art technology to produce an end product that is traditionally modern.
Typical Indian forms, colours and naming attract the attention of the casual shopper ensuring sales.
Working with strong principal intent - to have a low environmental impact during the manufacturing process - the design studio makes use of natural dyes and wood from trees that can no longer bear fruit.
Fresh designs are brought to life with stark colours and a medley of materials viz. steel, wood and glass; even metal - sheet, wire, casting, pressing, spun, etc., adding an element of zing with handmade artistic pieces that radiate hand-crafted quality; and more significantly, to empower the local artisans in the region.
Contemporary yet quirky products bring meaning to the statement "functionality meets art" and every product is a result of extensive R & D, brainstorming by designers, understanding the material and context, and end users. Simple elements are pooled with smart design solutions that spell multi-functionality and
will be available in stores worldwide from September 2016.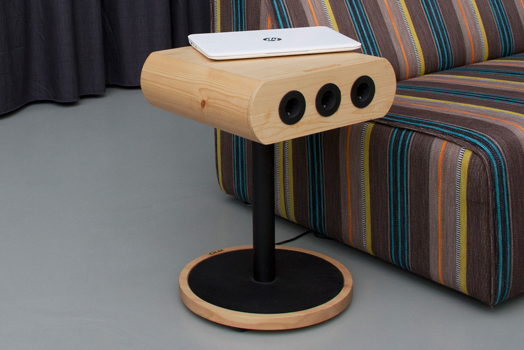 Table 2.0
The home decor products include furniture, lighting and other accessories, marrying pragmatics with a sensitive approach.