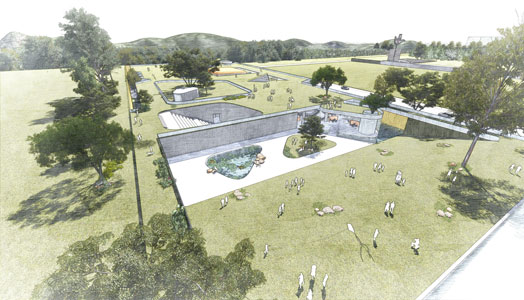 Roof Garden at the Museum of Knowledge
Walking in Le Corbusier's footprint yet keeping pace with contemporary times,
young design firm, MuseLAB Design Engine - second winners of international concept competition for the 'Museum of Knowledge', Chandigarh, enlighten us on what made their design tick...
To this day, Le Corbusier's vision for the Capitol Complex in Chandigarh remains incomplete - and among those unfinished elements is the Museum of Knowledge.
50 years since the inception of
a city "unfettered by the traditions of the past, a symbol of the nation's faith in the future", Chandigarh stands as a fitting testimonial to master architect Le Corbusier's ideologies.
Competing on the international platform to conceptualise a monument envisaged by the master himself, standing close to his monumental 'Open Hand' and taking his ideologies further was no mean task.
Three-year old MuseLAB Design Engine rose to the challenge with aplomb. In conversation with IAnD, partners, Jasem Pirani and Huzefa Rangwala revive the exhilaration of this participation. Over to them:
"How does one continue an ideation, surrounded by the master's design, and that too, without aping the master?" they exclaim. "Our proposed design for the Museum of Knowledge honours Corbusier's vision by showcasing the existing vestiges of the capitol complex by creating vantage points and visual connections. These landmark structures are thus included as part of the Museum and metaphorically form the main collection of the museum. The plan incorporates Le Corbusier's principles of light, space and greenery, which are still prevalent as of today.
Building upon and re-imagining Le Corbusier's Five Points of Architecture, we pushed the building below ground allowing for the site surface to be free of structure; consequently, the area doubles up as a park, allowing it to extend itself and be a part of the public realm.
The structure is supported by pilotis – which lends us the opportunity for free design of the ground floor plan and with all four sides anointed with full-height glazing, natural light filters in, in a controlled manner.
Being underground, open-to-sky courtyards and slits within the roof garden provide additional opportunities for light to permeate.
Le Corbusier's master plan for Chandigarh was designed keeping in mind the socio-economic conditions and living habits of people. Similarly a Museum of Knowledge in the present times would not be complete if it did not consider the current habits of the people. This proposal gives the power to the people to design and choreograph their own walk through the museum. A non-linear narrative with multiple opportunities to enter and exit rooms gives the user the authority and freedom to move through the space at their own pace. Areas within the museum and around have been generously devoted to provide for gathering spaces to encourage people to come spend time at the museum, attend workshops or head to the park with a book and read without any inhibitions."