IAnD Exclusive
.
.
Furniture

Lighting

Products

Textiles

Jewelry

Service design

Interactive design and new concepts.
Participants could establish potential connect with companies in Schengen countries & UK
Possibility of tie-ups both ways – India-Italy/ Italy-India
Manufacturers could get leads for exporting to Europe
Designers/Manufacturers interested in technical know-how, enhancing knowledge base etc., could benefit to a great extent

Opportunities for insourcing, global marketing, implementation of joint ventures and strategic alliances.
Benefit from an

exclusive fast track visa to Italy

(for Western & Southern Indian regions);

Avail of

customized and specialized advisory and consultancy services

to foster and develop your business, at a discounted rate;

Be actively engaged in

industry-wide projects and initiatives

, with opportunities to participate in the many business and institutional delegations, B2B meetings, seminars, conferences and round tables that the Chamber organizes every year;

Avail of the IICCI's

expertise

to develop new projects or reinforce existing ones;

Gain

visibility

through association with their brand.
Designers

Architects

Established Multiple Retailers, Independent & Online Retailers

Manufacturers

Curators & Opinion Formers

Talent Scouts/Recruiters for the Creative Industries

Trend forecasters

Journalists and media

Bloggers

Students & General public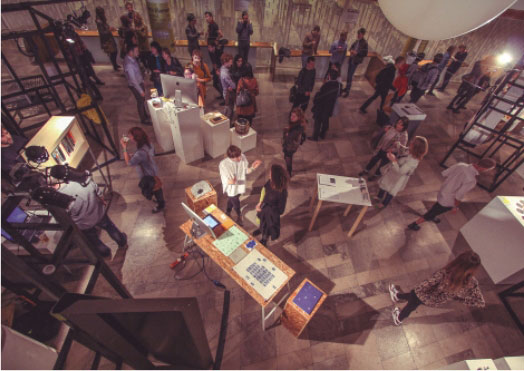 .
Produced more than 150 events in eleven countries featuring over 3500 individuals and companies from 34 nations.
Most established and long running collective showcase for independent designers in Milan.
Now in its 16th year
Located on Via Tortona, the busiest area of the Design Week and the original city zone
100 + Exhibitors from 31 countries

Six-day event
.
Combined databases in excess of 50,000 international contacts
Listing, images and links in every DB newsletter
Listing and image in DB online catalogue and on DB Homepage
Exhibitor profile and feature story on DB website
Dedicated feature on each participant in IAnD
Special Milan Design Week Issue by IAnD
Combined Social Media platforms including Facebook, LinkedIn, Twitter, Instagram, The Dots, Pinterest etc in excess of 10,00,000 followers
Private view invitation to creative industry leaders – including media, trade buyers and collectors.
Media partnerships with key design publications.
Designersblock Milan 2016 12-17 April
Sunday 10 April 09.00 - 20.00
Monday 11 April 09.00 - 16.00
Monday 11 April 16.00 - 20.00
Tuesday 12 April Open 11.00 - 22.00
Wednesday 13 April Open 11.00 - 22.00
Thursday 14 April Open 11.00 - 22.00
Friday 15 April Open 11.00 - 22.00
Saturday 16 April Open 11.00 - 22.00
Sunday 17 April Open 11.00 - 22.00
Monday 18 April 09.00 - 13.00