Photography: Sameer Chawda & Sebastian Zachariah; courtesy the architect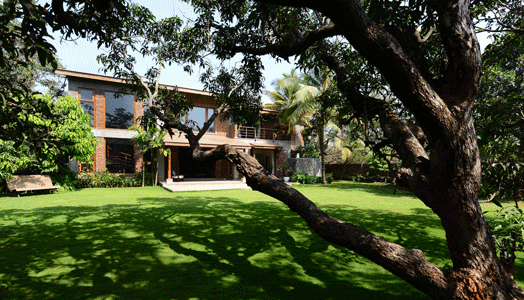 .
The quest to connect with the basic pleasures that nature bestows forms the essence of the design-and-build approach for the Mango House…
On a plot bound by mango trees, a north-facing entrance with a luxurious driveway and an east-facing kitchen that catches the early morning sun, openings on all four sides provide uninterrupted views of the verdant outdoors to the city-dwelling homeowners, as the home makes for a much looked-forward-to retreat in the picturesque coastal town of Alibaug.
Not one of the 70-to-80-year-old mango trees was cut to carve out this 6,000 sq. ft. holiday home. With the trees, at times, paternally standing protectively like a boundary wall, while at others, maternally spreading their leafy canopy to provide shade, Ar

.

Puran Kumar, principal, Puran Kumar Architects and the proud home owner, decided to blur the indoor-outdoor boundaries.
The interiors effectively reflect this seamless connect viz. abundance of windows, doors, skylights and balconies-cum-terraces. Furthermore, double-height living spaces in the dining and lounge areas and amorphous-shaped stairwell at the entrance foyer augments the capaciousness; whilst a view of the cool, inviting pool to one side and lush green lawns to the other, beautifies the schematic.
An earthy palette predominates; extensive use of recycled teak wood lends timeless appeal as Shahabad stone and exposed brickwork along with pastel soft furnishings blend into the natural setting to
cull out a warm country feel.
Purity in thought and expression through forms, materials and spaces define the interiors and exteriors of this organic home!