Photography: Courtesy the architect
This monolithic concrete structure that comes across as an enigmatic play of geometries, unfolds to a complex design that incorporates Vastu principles along with modern aesthetics...
The team at Skyward Inc. Architects delivers an exceptional design apt for the context of Nanded, Maharashtra with bursts of Western aesthetics.
.
The home is designed to mould itself around the desires and needs of the users' right from elements like the water feature at the entrance that separates the outside by acting as a buffer to the bay windows that provide casual seating, whilst framing exterior views.
A predominant linearity prevails as the spaces stretch establishing a connect to one another and to the outdoors.
.
A strong visual axis is also created by this arrangement allowing for frames that primarily capture the ingenious interiors and further
direct the view outwards, through large windows, integrating the landscaped garden with the indoors.
Dynamic textured horizontal wooden bands break the monotony of the stark white in both - the façade as well as interior spaces.
.
Opulent finishes juxtaposed against this seeming neutrality, come alive under strategic natural and artificial lighting, the blue sky invited in by the glass skylight that dominates the contiguous living and dining rooms.
.
On the other side, the green of the rear garden makes its way into the kitchen and the spectacular suburban skyline is framed by horizontal openings on the front façade.
Rays of the early morning sun highlight the jagged lines of the construction, while an innate flexibility in the interior spaces allows the inhabitants to come together as a family or seek solitude, when desired.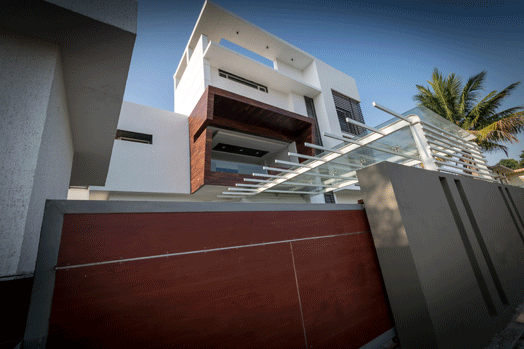 .
The architect manages to create strong links of the indoor and outdoor spaces that reflect the deep ties of the family thus elevating the notion of a warm cosy abode.