Renderings & sketches: Courtesy Design Forum International
Assam Government's new Directorate Complex in Guwahati is an iconic modern architectural vocabulary etched in East-Indian symbolism…
Led by Principal Ar. Anand Sharma of Delhi-based Design Forum International (DFI), the consolidated complex comprises 73 directorate offices on the 11.5-acre site without compromising on optimum office interface, high pedestrian/vehicular movement or security.
Conceived as a gateway to the 'S
even
Sister States', the complex is divided into seven tea-leaf shaped blocks. The leaf bud is conceptualized as the connecting core between the floors, while the tip of the leaf is designed as an open connecting atrium throughout the building.
A front view of the building boasts of contemporary architecture but it's the bird-eye view of the complex that steals the show. The seven tea leaves take the shape of Goddess Durga's crown as the green landscape and flood lighting compliment its beauty. Together, these elements contribute to planning the seven blocks of offices around a spinal, green congregation and performance area.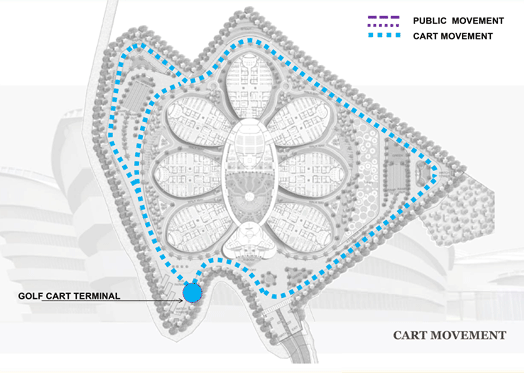 Flow of pedestrian and vehicular traffic across the site
Building Heights
"The entire complex with a total built-up area of 7,50,000 sq. ft. is designed in the light of the local context, climatology, security and traffic planning," explains the architect.
Abundant natural light filtering into the complex is a great plus factor of the design. This is facilitated via the central open-air spine and slits in the corridors on all levels right down to the basement. Meanwhile, the external glazing walls are slanted outwards as they go up to allow for reflected light rather than direct.
In a conscious effort to break the stereotype of the generally intimidating government buildings, DFI opts for a form that is more human in scale — growing rather than imposing. The buildings, therefore, start short in the front and grow in height towards the rear and up to the eighth floor. Special attention is paid to allow screening at all entry and critical points, besides ensuring smooth passage of pedestrians and traffic through designated lanes for private and public transport, and VIP or staff movement.
Another key feature of the complex, which has been designed for Griha 5 Star rating, the most stringent of all, is its sustainability. Natural ventilation, water channels for rainwater harvesting, green roofs and day lighting make it a unique and eco-friendly complex. We hope more states follow suit.
The building is scheduled for completion by 2017.