Photography:
Rays & Greys : Shamanth J Patil
Seven self-contained apartments are housed in two facing blocks that seem to emerge from gardens and blend into the peripheral greens amidst a serene environment, belying the fact that it is a part of the pulsating city of Bengaluru…
The name 'King's House' is suggestive of the grandeur that anoints each of the 10,000 sq.ft. holiday homes (within a building) designed and built by The Purple Ink Studio for members of the Kini family, who are of Indian-origin but reside in the Middle East.
Each of the apartments has an elaborate layout comprising four bedrooms, living-dining areas opening into a mandir-cum-meditation space, two kitchens, wine cellar, store and staff quarters besides access to common facilities like pool, theatre, games room and skywalks. A sprawling 20,000 sq. ft. duplex penthouse crowns the topmost floor and additionally boasts 7 bedrooms, 2,000 sq. ft. formal area and pool table!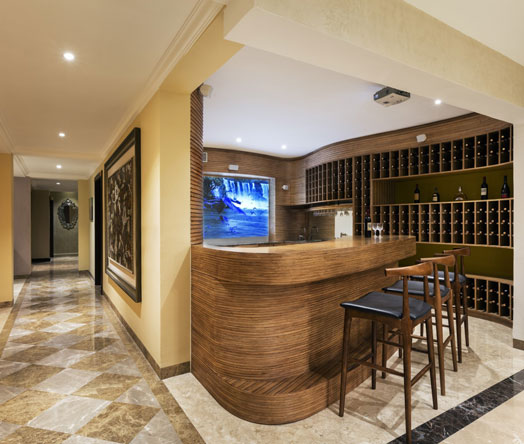 .
Opulence coupled with diligence in detail defines every corner of the contemporary home - be it Italian marble-finished flooring with hand-crafted Rajasthani inlay work or wooden finishes as patterns on panels/partitions or paints and textures applied to walls – heightening the overall aesthetic.
Drama, spaciousness and fluidity characterize the entire volume. For instance, two taxidermy peacocks and an eagle sculpture impart a larger-than-life vibe; deliberate angular alignment of furniture; abstract patterns juxtaposed against solids etc. make a strong statement that is judiciously balanced out with open areas and minimalist use of colour and pattern elsewhere: almost like forms flirting with space!
Interestingly, fluidity of form is emphasized viz. animated wooden vertical fins that buffer the entrance lobby and dining area; progression of dining table into kitchen counter and fluted patterns on library wall flowing down to form a desk.
In terms of architecture and landscape, each block is articulated using the existing vegetation as a stencil, without compromising on the existing green cover. The overall construction uses green materials such as AAC blocks, solar PV cells, double glazed windows, solar heaters, VRV system; LED lights etc.
Additionally, rainwater percolation pits, surface runoffs and sewage water treatment plants aid in harvesting and recycling massive quantities of water; displaying principals Akshay and Aditi Heranjal's acumen in conscientiously weaving ecological elements with luxury interiors; in turn desirably earning the firm 2 international awards -- Rethinking the Future Award and Future Sustainability Award 2014.