Photography: Courtesy Sarthak Sahil Design Co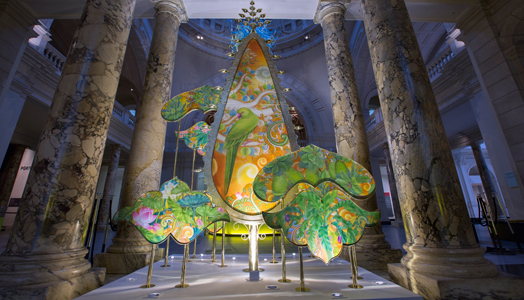 .
The V&A, on the 10th of November, unveiled a festive light installation in the Grand Entrance of the museum, created by India's Sarthak Sahil Design Co, as part of the V&A India Festival…
"It is V&A's annual practice to invite an installation just before Christmas," informs Sarthak Sengupta; "And this time, since they were celebrating the India Festival, they invited us to design this in time for Diwali." The installation is a beacon of culture, nuanced and subtle in representative iconography and constitutes a dual celebration for Christmas and Diwali.
An ensemble of free-standing structures, depicting the very Indian motifs of banana and mango leaves, lotus petals, the Tulsi or holy basil and the 'ambi' or paisley, it is aptly christened Kalpataru, named after a wish-fulfilling divine tree in Hindu mythology.
.
.
Fashioned out of brass framework by expert silversmiths from old Delhi and enhanced with a hand-beaten texture popularly seen in traditional utensils used in Indian kitchens, each element is fitted with a vibrant mural, hand-painted by artists from the southern state of Kerala in their distinctive mural-painting style. The central motif of the installation is the tallest reaching a height of three-and-a-half metres and the entire ensemble is illuminated from below to reveal the intricate patterns of symbolic fruits and leaves.
Concepts of nature and culture are serenaded to celebrate illumination not merely in its literal sense but also as a metaphor for the celebration of hope, prosperity and ecology.
Kalpataru: The Wishing Tree at the Victoria & Albert Museum, London
Dates: 10 November 2015 – 6 January 2016