Images: Courtesy the architect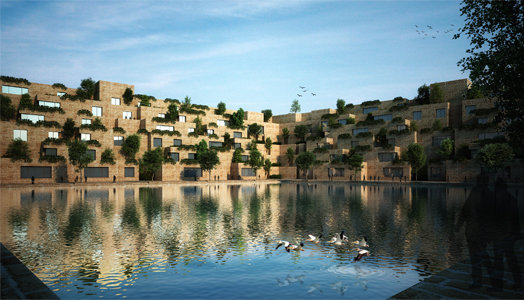 .
Sanjay Puri Architects has scored a hat-trick: winning their most recent third international award for this yet-to-be-built Reservoir project in Rajasthan at the WAF, as the Best Office (Future) Building of the Year 2015…
But this time around, it's not futuristic design (that he is so famous for) that has won him accolades; but a form inspired from centuries' old traditional architecture of the region. Since the corporate office project is for a cement conglomerate in the desert state of Rajasthan, the design has sensitively been based on context to site, climate and needs of its users.
This 9-acre office project is but a fraction of the sprawling 100-acre site, which will constitute schools, hospitals, residential and recreational facilities encapsulating an entire township for the cement giant.
.
With temperatures being in excess of 400 C for most part of the year, coupled with water scarcity being the formidable challenges; a steeply contoured site and a natural water collection pit proved to be the advantages. Taking both aspects into consideration, Sanjay's built-form is inspired from the region's traditional step wells.


Office spaces are created on two north-facing sides, gradually stepping down at each level along the existing contours thereby generating north-facing landscaped terraces fronting each office, whilst the opposite south-facing sides are fashioned into open stepped-platforms along the site's contours further generating landscaped pockets and creating a large community space as documented in bygone eras.
The structural orientation thus saves as much as 30% energy, whilst the sub-soil water collection pit creates a precious reservoir year-round, contributing towards alleviating profound water problems.
Adding to the sustainable features are the south-facing solar panels installed over the expansive greenery covering the RCC sloping roof that is created by elevated earth berms erected to protect the south side and carve out sheltered parking spaces. Use of local Chittorgarh sandstone for the structure translates into zero carbon footprint and overall lowered costs.
Such diligence to detail, contextuality to site and climatic conditions, thinking-out-of-the-box, and a deep driving passion for excelling in every single project – however big or small— are stepping stones in Sanjay's success story of winning over 70 international awards.
So what's next? "A museum in the US in the largest arts district besides some very interesting hotels and educational institutions in India," is all he's willing to reveal right now. We wish him the best.