Photography: Courtesy Studio Ardete
.
Manasara – the profile cutting store in Panchkula, Haryana is
crafted
to celebrate its nomenclature…
Spearheaded by principal architects, Prerna and Badrinath Kaleru, team Studio Ardete Pvt. Ltd have designed 900 sq. ft. of retail space to showcase the intricacies of profile cutting, eulogizing the ancient art of metal engraving; only this time around, the artwork is water-jet CNC driven!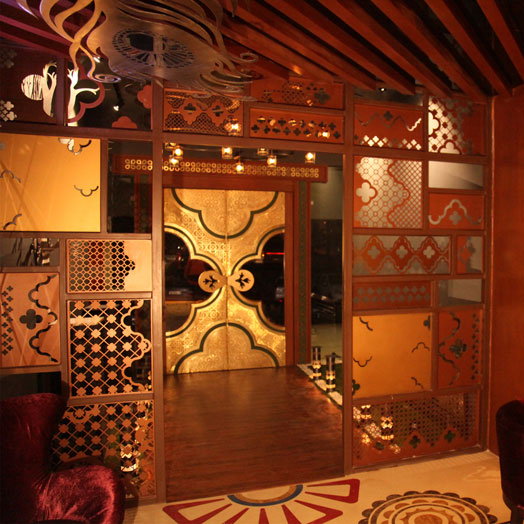 The screen and main door as seen from inside
A grand handle to the door is done in a thick sheet of brass
Applying different patterns of profile-cutting in the interior architecture as demarcating partitions and as elements of décor, the store comes alive to depict both interior and exterior applications in terms of scenarios. Whilst the entrance is flanked by an outdoorsy garden area with CNC cut profiles of a tree, lamps etc, a complete bedroom depicts the interior setting.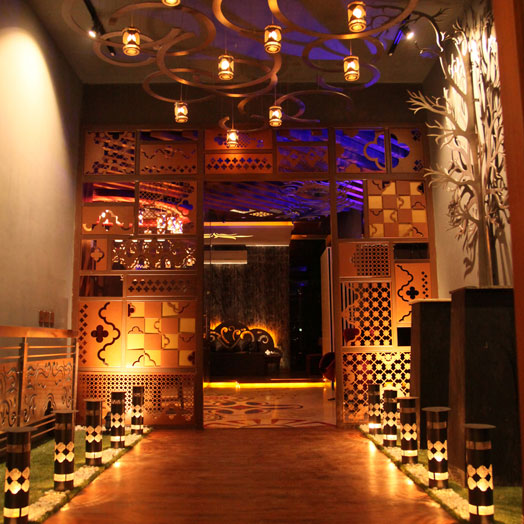 The entrance area depicting an outdoor night garden and the screen - the main element of design
Set of lamps around the ring bounding the quartrefoil motif in the ceiling of the waiting area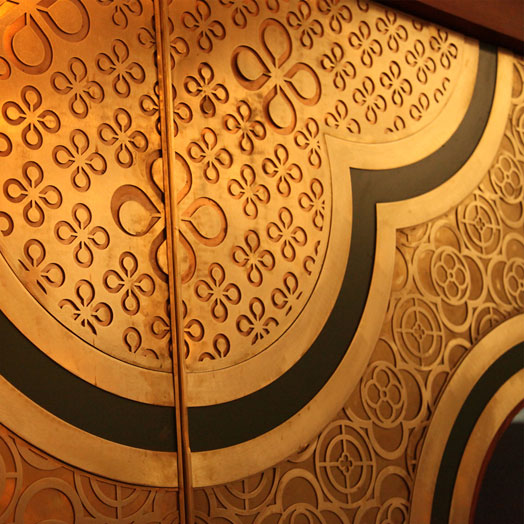 Detail of the main door showing the intricate art work and layered use of copper and brass
All designs displayed are multi-cultural, multi-dimensional and authenticate the store's expertise in its field; yet, coherence in interior design is effected through a single quartrefoil base motif that finds resonance either partially or completely, binding the interiors holistically.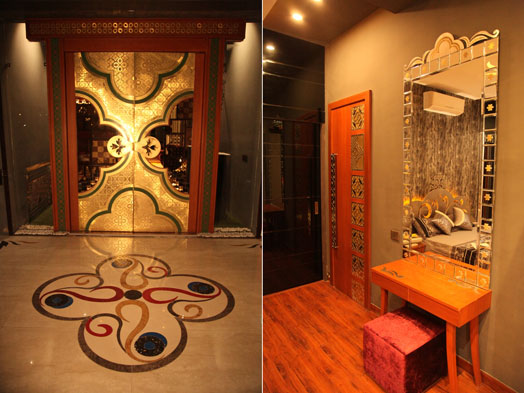 Main door
Metal inlay work in dressing mirror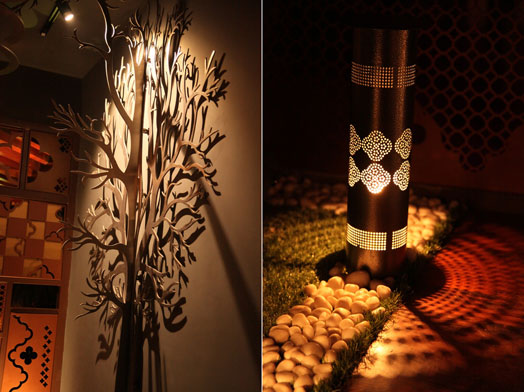 Tree made of stainless steel sheets Intricate metal cut-work lamp
From walls, flooring and ceiling to accessorizing elements, the craft of metal cutting permeates the ambience completely, creating an aura characterized by the amalgamation of technology and tradition; akin to a traditional soul in a modern fit out!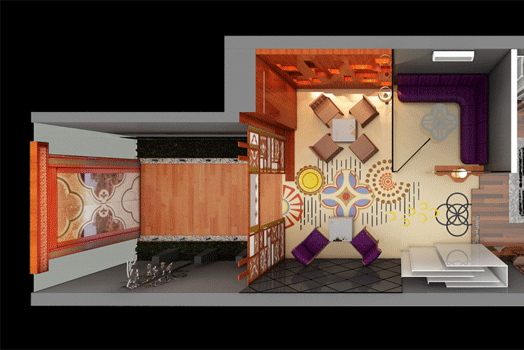 3d view of Manasara
The project that illustrates accord in miscellany has been a part of the recent World Interiors Festival 2015 at Singapore, shortlisted in the Retail category.