Photography: Prashant Bhat; courtesy the designer
.
Principal interior designer Kavita Shah of Purple Designs carves out a simple chic home for a young couple, where clean lines and just enough furniture pepper the layout -

leaving room aplenty for the home to grow…
Coherence throughout the 3 BHK, 1,500 sq. ft. central-Mumbai elegantly designed home emanates from a simple and restrained palette: both in terms of materials and colour. Marble flooring, wood and white PU painted furniture anchor the materiality whilst beiges, browns and crèmes awash the overall schematic.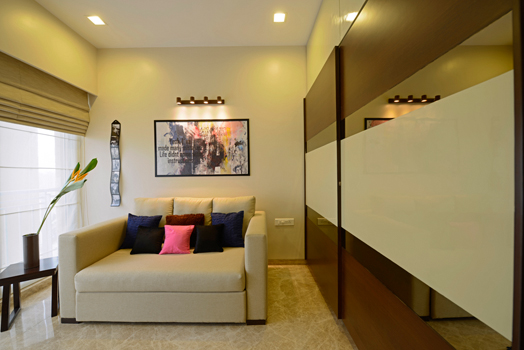 .
Vibrancy is infused in small doses via rugs, vases, cushions and the like, where a touch of whimsy comes forth through blurred paintings, a crooked photo frame and some fork-end racks that adorn the walls – adding character to spaces, while keeping artifacts beyond the reach of little hands.
A Zen vibe suffuses the home which is perhaps triggered by a Buddha statue at the entrance lobby; flowing past the living area characterized by a neat and fuss-free space that adjoins an equally composed dining area, where a mandir is concealed behind a frosted glass panelled cabinet.
The overall calm vibrations permeate the baby's room as well, where light-coloured furniture, absence of sharp edges or glass, concealed handles, kids-safe plugs etc., turn it into a secure cocoon.
Pull-out drawer under beds, cabinets and niches, walk-in wardrobes and even concealed storage below the window sill facilitates generous storage options.
The site orientation and many windows bathe the home in natural light; to maintain a balance, 100% blackout linen blinds are used to cut off harsh sunlight.
The designer shows diligence in carving out a master suite as well as enlarging the master bath by culling out space from the master bedroom sans making it look small. Upholstered in black and white tones, the seemingly spacious suite becomes the high point of the project, accentuated as it is with the right measure of dress-up!