Photography: Courtesy LSDA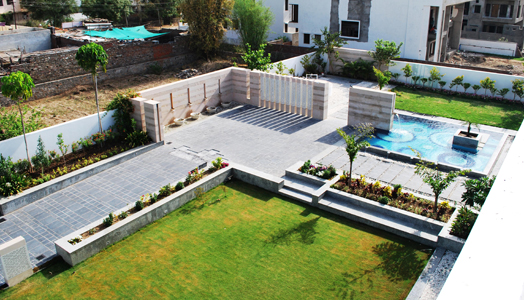 .
Layers Studio for Design and Architecture (LSDA) carve out a niche water-scape for a private residence in Udaipur, where the onus is on minimal intervention and a holistically responsive landscape design…
"The concept was to design the landscape wrapped around a central water feature, which sat next to the living room of the house, with water flowing in and out at various levels and locations through the entire landscape," informs Neha of the Neha Bhardwaj-Gaurav Kapoor duo - principal architects at LSDA.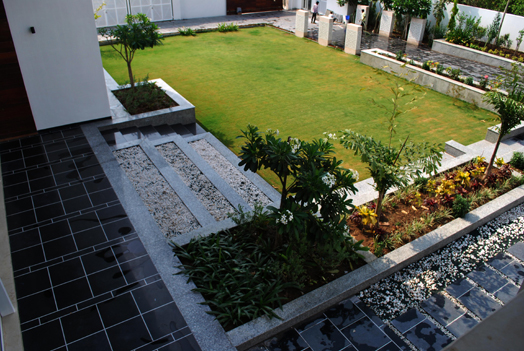 .
With a focus on just one material – rough black sandstone, 2200 sq. m. of the garden and approach path to the home is landscaped using the stone in different patterns. Strips of white marble and an elevation in Gwalior stone define the patterns, as pebbles contribute to the overall aesthetic. A green cover of shrubs and bushes wraps up the aesthetic with just two varieties of trees – Ashok and Badam trees planted at the periphery to ensure privacy from neighbouring plots.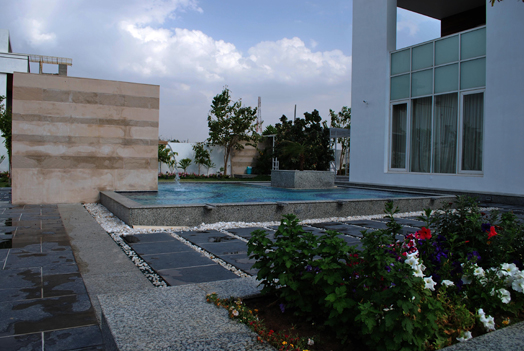 .
Structurally, the design consists of a driveway leading to a drop-off plaza, up to the main door of the house. A central water-body and the main lawn flank the pathway, letting one's gaze take on the wider sight of an inviting beautifully landscaped garden and the outdoor dining and play areas that peep through from the rear.
.
Water is the ubiquitous element here, as spouts emerge from tall linear stone splits and the seemingly overflowing pond, its softly rippling murmur, cathartic music to the ears.
.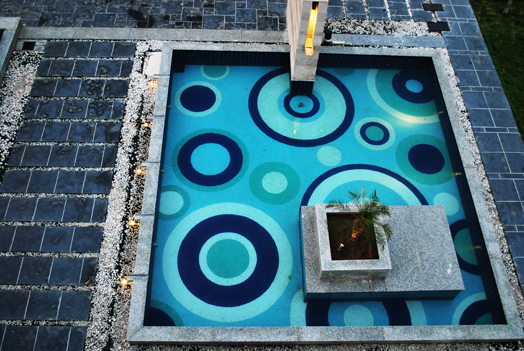 .
.
Since the key utility of the garden is relegated to the cool evenings, diligent lighting solutions accentuate the setting, bringing the outdoors pulsatingly alive as the sun begins to set. Adding an element of intrigue to this simple styling are 9 feet high custom-built sculptural, cut-jaali columns that line the driveway and perfectly complement the tall linear floating walls that act as space separators.


The columns transform into decorative light installations by evening, creating a festive look all year around. Details are meticulously looked into as effective contributors: the water spouts look artistic even when not in use; the floor of the pond is finished with broken tile mosaic flooring laid in a contemporary pattern using various shades of blues and is the talking point of the design as it is visible from every point of the house and the garden.
When the approach to your home is culled with a relative passion for the good life, the vibe becomes eternally positive and liberating. Such is the ethos of the entrance to this private residence, where the clients brief mandated simplicity and elegance in a party-friendly outdoor space.