Photography: Courtesy Ritu Dalmia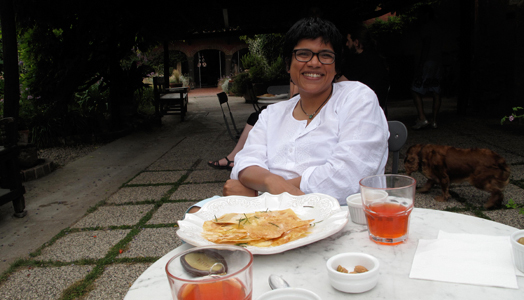 Chef Ritu Dalmia
Inside and outside the kitchen with award-winning chef Ritu Dalmia…
Those of you, who are familiar with the Ritu Dalmia touch that gives a distinctive flavour to Italian cuisine (she's known as the Queen of Italian cuisine, after all), will agree with me, when I say that the stately lady has a
whole lot
of taste!
At her best in a pair of jeans and Rajesh Pratap Singh kurtas, comfort and style run high in her ensemble that is complete with her fetish for shoes - she has brogues in practically every colour!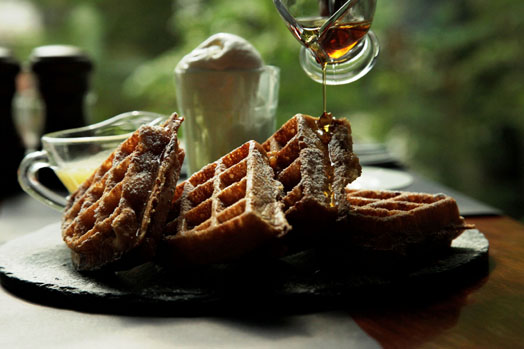 Waffles - Classic with butter and maple syrup
Having cooked her first meal at age nine, tasted her first sip of champagne at 16, and opened her first restaurant at 21, she currently heads Vama in London, Diva and Café at the Italian Culture Centre, Delhi.
Prawn and Pomelo Salad
Her deep respect for Chef Manish Mehrotra of Delhi's Indian Accent and for Italian restaurant La Calendre's Massimilliano Alajmo for whom, she feels, food is akin to poetry, brings us to realize that the burst of creative energy that Ritu showcases with her culinary skills has an instantaneous connect with her love for all things Italian; and that includes her life philosophy, which can best be summed up in the Italian saying, 'passerà' that translates as 'this too shall pass'.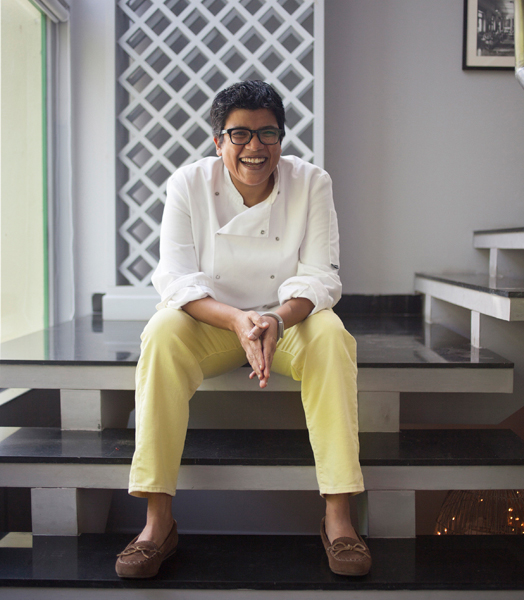 Relaxed and ready for anything!
IAnD connected with the renowned chef to delve a little below the broad smile and expert hands to unravel the brisk, stirring mind. We share with you our lighthearted banter with Ritu and leave you to discover the ticking heart behind the luscious gourmet fare…
psst… Ritu is in awe of author Jeanette Winterson and repeatedly tends to read her book, Written on the Body;
also loves
masala chai
! T
ells us a lot about our lady chef!
Working in the field of the culinary arts for you is…
A true pleasure, so much so that I feel guilty calling it work.
What is your favorite ingredient?
What are some of the activities that you love indulging in besides cooking?
I am a keen traveller and I fancy myself as a talent scout for musicians. When I heard a song by Adele for the first time, before she became famous, I told my friends that she was someone we needed to watch out for.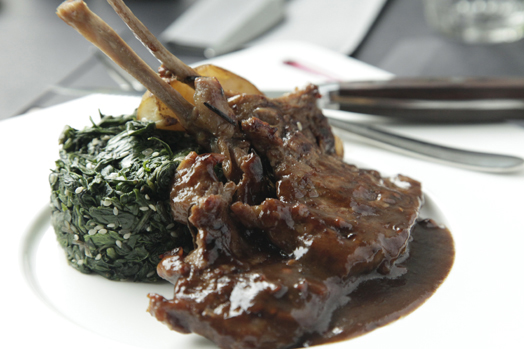 Coffee marinated mutton chops with balsamic reduction
If you could invite five people (past or present) to a formal sit-down dinner, who would those people be and what would the topics of discussion be like?
It would be an all-woman forum with a mixed bag of people, comprising Elizabeth Poole, who was hung on charges of being a witch in England; Dr Johnson, of Masters and Johnson fame, because I think it's cool to have been a sexologist in the 1950s; Kerry Washington aka Olivia Pope - since I'm so enamoured by her; Arundhati Roy since I still love The God of Small Things; and Anjali Gopalan, the human and animal rights activist because of the incredible work that she does. I have a feeling that the conversations would be amazing!
What are the five things you would carry if you were left alone on a deserted island?
My Kindle, fully charged; a carton of diet cokes; my iPod; a good torch; and a sharp knife.