Photography: Courtesy Orproject
In lieu of a typical white-cube gallery, Orproject transforms the soundscape of Beijing into a three-dimensional display installation for an exhibit on the city...
For different cities of the world, sounds that form the background score of daily urban life are ubiquitous, distinct even. Using this rich medium, project architect Rajat Sodhi of design and architectural practice Orproject translated the soundscape of Beijing into an installation sculpture aptly titled 'Echo' that coherently displayed a visual collection of everyday Beijing (curated by Degeng Li ) at the Interface City section of Design Shanghai 2014.
Li's exhibit showcased fragments of the city, including signage, building facades and visual information in the form of writings, symbols, projections, small objects and images. In a bid to convey the curator's concept, Sodhi explains that the world around us is made up of various elements, many of which are designed for use as well as many that are special designs in themselves. And, when they come together, they start to interact with each other, taking on new meanings and functions according to their surroundings.
Drawing from years of research on music and sound, Orproject proposed a display installation that used the authentic sound of Beijing as an abstracted metaphor to present these city sights for an immersive experience.
Assembled in the 1,250 sq. m. exhibition room, the Echo installation appeared to be a continuous wave-like structure. Orproject employed digital acoustic analysis techniques to first capture the sound of Beijing and then to transform the medium into the physical volume that the structure was. While visitors might or might not have been aware of the origin of the geometry, they definitely found it easy to recognise that each of the visual exhibits were connected by this very structure and that they were all a part of the same.
Comprising a wall system constructed from CNC-cut layers of polyurethane foam, each layer responded to a specific analysis frame. According to Sodhi, every layer, when assembled, resulted in the development of the overall morphology. Connecting adjacent exhibits with each other; at the same time, forming connections between objects at either end of the exhibition, the exhibits against this backdrop made the visitor aware of how the city is built up of various structures and information.
But this wasn't the first time that Orpject experimented with sound as a special element of design. Proposals for the Busan Opera House, Anistropia at the China National Museum, and its prototypes for Chuan and Atmosphères have allowed the team to work with this design form to develop new morphologies based on different forms of sound analysis.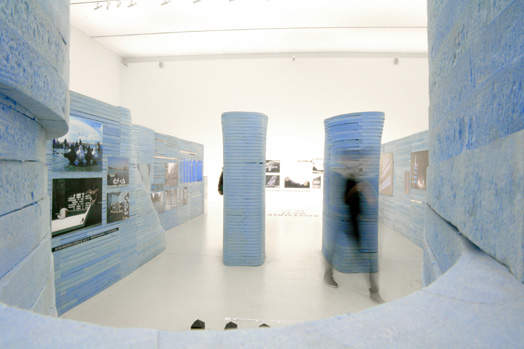 .
So, after 3D, or rather with the progressive techniques of 3D, is sound the new medium of exploration in architecture and design?