Photography: Courtesy Nisha JamVwal
A woman of many talents with an elegant style to boot, Nisha JamVwal has us wondering what might be the secret to her tireless drive for life…
Most know Nisha JamVwal as a columnist and luxury brand consultant. Still others recognise her as an interior architect, who lent her expertise and aesthetic to such esteemed projects as the Jaipur Airport. In between all this, Nisha, who is not one to compartmentalise life into boxes, unconditionally works to bring issues to the forefront for societal change.
Besides working as a craft activist for traditional Indian artisans, she is also a mentor to university students. Without her many passions, she feels, life would be a meaningless transition from womb to tomb. Sharing a personal quote that mirrors her well-rounded life, she says, "To grow and metamorphose in life is the only constant. You are not in a waiting room to live your dreams and reality."
Inspired by the likes of Ian Schrager of Studio 54 fame and Japanese architect Arata Osizaki, the interior architect has an affinity for things as simple as stationary like multi-coloured Post-its and blue ink pens that can always be found in her bag.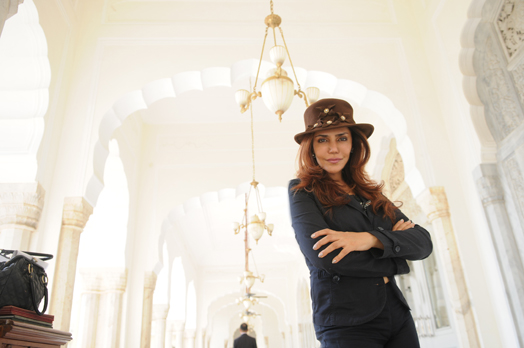 "I wear them instinctively as I like them!" Her collection sports
The Beanie, The Fedora, my Garbo hat,
Pillbox hats, petit Cloche's with flower embellishments, Sinamay Downturn Brim, Golf Hats,
Sailor Straw hats...
Missoni, Burberry, Donna Karan, Emilio Pucci are favourites
And, while she isn't a slave to brands, Nisha, a lover of fashionable hats, does enjoy the luxury and quality that come with a pair of Ferragamo shoes; Moschino and Braccialini handbags; Burberry trench coats and scarves; casual wear by Marc Jacobs; and shifts, sheath dresses and work suits by Stella McCartney, Max Mara and Elle Tahari.
Naturally stylish
A traveller at heart, she won't even hold back, when indulging in Barcelona's street food. On a recent trip to Jerusalem, where she enjoyed breakfasts under the trees surrounded by blue pottery mosaic at the American Colony Hotel, she came away deeply inspired by the town's tolerance to all religions.
Nisha, who views Stephen Hawking as her role model, is an astronomy enthusiast and was even part of the Amateur Astronomers Association during her school days. She's also an avid reader and movie buff, who has read every bestseller by Jeffery Archer, besides being a fan of Hugh Grant and his understated humour as well as the Star Wars series. Closer to home, she recently enjoyed the quirky spoofs by Shaad Ali in Kill Dill.


During this unfettered chat with JamVwal, IAnD found out a surprising number of snippets about her love for interior designing, modes of relaxation, and much more…
Interior designing for you is…
Recreating spaces is a passion, an impulse and a qualified-for profession. I wouldn't call it a job but a journey of love.
A colour or material you love working with?
Teal, black and all types of fabrics.
What are some of the other activities that you love indulging in when you aren't working?
I enjoy movies, strolling by the sea, travelling, walking mountain paths in Switzerland, swimming and being active on social media.
If you could invite 5 people (past or present) to a formal sit-down dinner, who would those people be and what would the topics of discussion be like?
Hugh Grant, Stephen Hawking, Barrack Obama, Narendra Modi and Ratan Tata. I would love for the conversation to steer towards connecting nations seamlessly and making travel easier and the possibility of a world currency. However prosaic as it might sound, I would hope to focus on world peace because the level of violence bothers me.
If you were left alone on a deserted island, what are the five things you would carry?
A projector with movies; a soft satin or silk nightdress; as many books as I can carry; a mattress and pillow; and a companion.