Photography: Courtesy the architect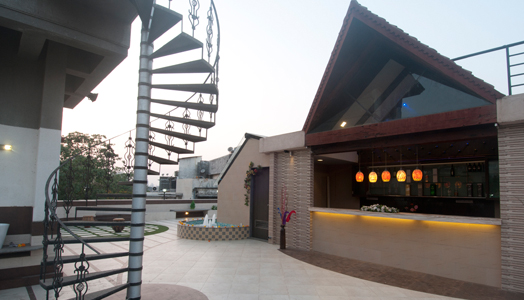 .
A sprawling 6000 sq. ft. of inhabitable area and an expansive 3,000 sq ft terrace gets a 'bungalow-like' makeover at the hands of principal architect Sandeep J Shah of SSA Design Studio.
Materially rich, roomy, well-appointed and easy-on-maintenance are keywords that define this penthouse in suburban Mumbai for a compact business family.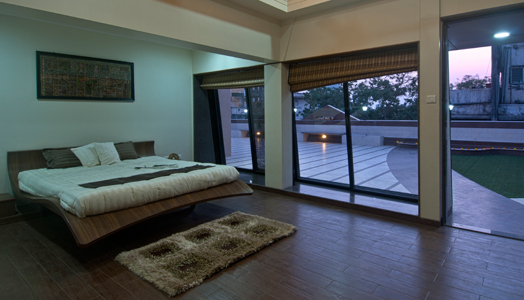 .
.
Accentuating the positives viz., high ceilings and vast terrace and rising to the challenge of transforming an old load-bearing
chawl
layout into a bungalow, Sandeep began the exercise by equipping each bedroom with an ensuite restroom, besides enhancing the master bedrooms with walk-in wardrobes. Maximizing on the view and the open terrace space, the guest quarters and a well-appointed bar are positioned on the upper floor, while the family bedrooms and living areas are relegated to the level below.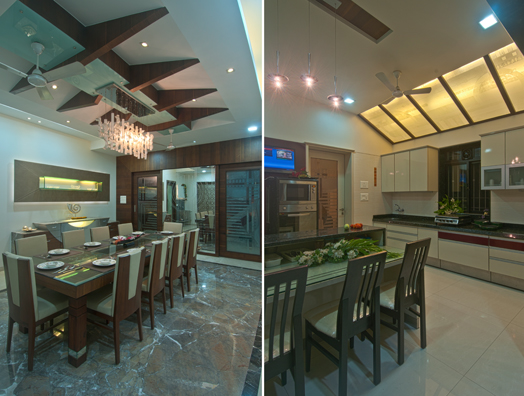 .
The architect
plays with juxtapositions veering from the traditional to the avant-garde as he camouflages the many 'I' beams into the ceiling design, interestingly playing traditional elements against a modern vocabulary. For instance, creating a spotlight, wooden rafters are juxtaposed against glass on the ceiling along with an arresting chandelier in the entrance lobby and dining area. A skeletal glass staircase raises a toast to the two duplex levels and sliding folding partitions act as space dividers and enhancers. In a similar vein, a softly landscaped terrace flooring acts as a bold contrast against the old world charm of a Mangalore-tiled sloping roof; exuding a distinct character.
.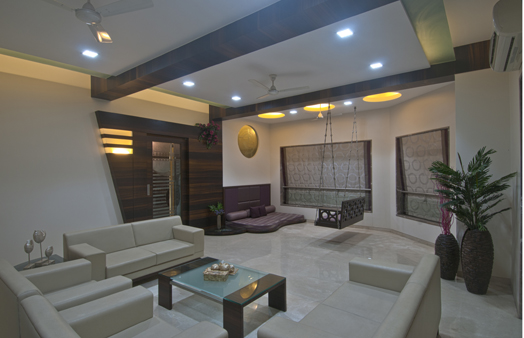 .
A sumptuous materiality defines spaces. Ubiquitous use of marble variations; elaborate floor patterns; intricate jaali and fenestrations on partitions and dividers; fancy terrace tiles inlaid with artificial grass – bring about wholesomeness to the design and décor of this abode.
And peering at the technicalities behind this tastefully attired abode, we see skylight and sloping roof augmenting the structural and environmental vocabulary as do the light-weight walls crafted out of Siporex and marble dividers instead of brick. LED and plenty of natural light are complemented by solar power for the green experience, all-in-all packing in a punch that gives the home an all-time appeal.