Photography: Courtesy the architects
An understated opulence beckons you at Suba Elite, a 4-Star hotel in the heart of Vadodara, Gujarat. It is designed to offer a hands-on experience of an exclusive lifestyle to its guests, say O & A Architects, the people behind its style statement.
The lobby reveals the entire feel of the design, as the designers project it as a manifesto of their design intentions. Glossy marble-like floor, straight-cut reception counter, wallpapered backdrop with defined lighting and triple-shade roller blinds that allow for play of sunlight in the area - all glowing in shades of gold - make opulence come alive at the very outset.
The long and narrow build of the lobby creates vistas for the guests and the same scheme gets carried through to its rooms. Living up to the 'boutique hotel' tag, every room in Suba Elite is unique in terms of its spatial arrangement and colour palette.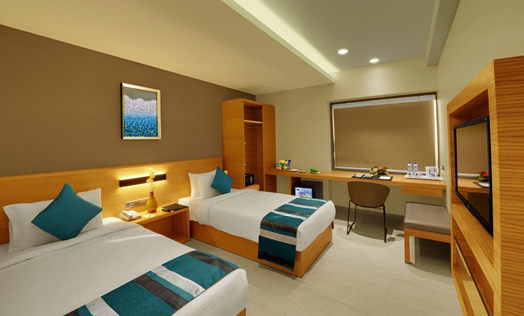 .
.
Different categories of rooms sport different features with respect to aesthetics and design detailing. Vitrified tiles with minute grains, elegant wood work, roller blinds with heat-control and black-out fabric and a high degree of colour coordination mark these rooms.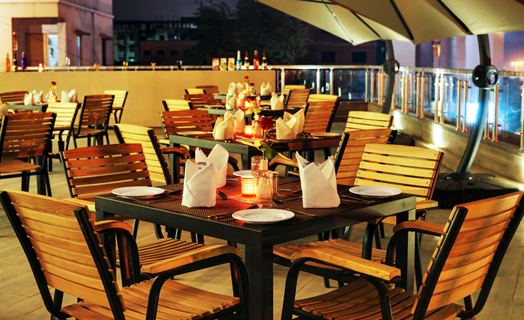 .
"Cooking is an art and so should be its 'Exhibition Space'", say the designers, underlining the design philosophy behind Suba's restaurants. Wooden deck lined with canopies of tensile umbrellas give a youthful look to the rooftop restaurant, while rustic furniture and dim-lighting make it more inviting.
.
The indoor restaurant, with its textured stone-tiled outdoor feel, dark brown upholstery, spotlights and a dominant spread of golden and white shades in the rest of the areas presents a solemn setting, in contrast to the rooftop restaurant.
Wooden wall-to-wall lattice installation, sporting Duco-finish in a warm colour is the highlight of the carpeted, highly flexible Banquet Hall of the hotel. In the same vein, elaborate wood panelling and wooden flooring define the Conference Room.
.
Handwoven and organically dyed natural fabrics in deeper shades are chosen for high-usage guest areas, while its earthiness is reined in by a play of vibrant cushions and throws. Murals, chandeliers, sculptures, antiques and other ornamental features spice up the show.
As a warm hospitality experience, the hotel stands apart for its understated and chic, comfortable ambience as it does for the versatility of its spaces.