Photography: Courtesy The Orange Lane
The Bombay Bronx is everything that Mumbai is. In fact, one visit to the
bar-n-restaurant
will familiarize you with all things associated with
everyday life
in Mumbai…
"The Mumbai-themed bar is kitted out in almost every possible element of city kitsch," explains the design team of The Orange Lane, and rightly so. Their client's brief was simple: he wanted a

regular go-to bar

ambience,

but one that would have the distinct "vibe of Bombay".
Graphic wall of colloquialisms and local train handles as installation
The commercial capital of India, Mumbai is like a live-wire buzzword for success! Success of all kinds - of your dreams - your dream job; dream salary; home, spouse etc etc. The metropolis buzzes with the aspirations of its people, welcoming and adapting to the throngs that visit it on vacation; or make it their home. Consequently the fascination for its typical colloquial dialect, its cultural ethos… makes for a unique experience unlike any other city in India!
Mumbai local train map as ceiling element; barbed wire and tin cladding for bar counter
The bar's design and furniture is thus, inspired by the hustle bustle of the city and broadly classified into four themes i.e. transportation, colloquialism, Bollywood and business. Local train handles hanging from the ceiling, which has a map of the railway network, BEST bus-shaped napkin holders, aluminium flooring and a half-cut auto-rickshaw, especially for those who love taking selfies, represent the mundane but fast-paced lifeline of the city.
plush rexine; unfinished wall eloquently spell the cultural disconnect in society
Popular phrases and typical Mumbai snacks bring out the colloquialism of the city through graffiti and printed typography on a wall, while a sign board of the well-known Eros Cinema and a mural of Amitabh Bachchan - striking his now-famous pose from
Deewar
- aver to the colourful world of Bollywood.
Meanwhile, dabbawala bar lights and dabbas as decoration under the tables besides a painting of a curvaceous Koli fisherwoman call attention to the city's heartbeat that lies in its commerce.
Irani style billing counter
Gola-cart installation
Several other elements have been thrown in this colourful and bright bar such as Irani cafe-inspired blackboard with "rules of the restaurant" and wood-and-glass cupboard. White sculptures of pigeons trapped in barbed wires behind the bar resemble the 'kabutarkhana' of Mumbai and a large installation of naked bulbs with wires entangled and connected to an open Reliance meter box refer to the "electricity chori (theft)" that everyone in Bombay is well versed with.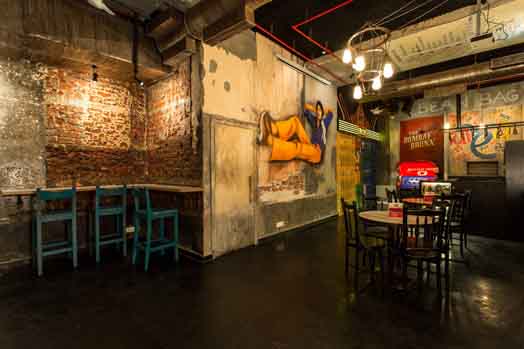 The spirit of Mumbai - business, Bollywood, transport and colloquialism
Marble-top tables,
bentwood chairs
, taxi-style sofa seats, blasted granite flooring, a printed vinyl wall, an 'incomplete' brick wall and exposed RCC ceiling with open conduits refer to the industrial nature, while the furniture is upholstered in glossy rexine… these and other disparate elements effectively call one's attention to the cultural divide that is Mumbai; a symbolic poignant message wrapped in a bauble of fun!