IAnD Exclusive
Photography: Courtesy PareshLamba
Fashion Designer Paresh Lamba at his Signatures Store in Bengaluru
Fashion designer Paresh Lamba gauges the future of menswear in 2015 just like he did 15 years ago, when he stirred up a sartorial storm in Bengaluru's fashion scene…
Paresh Lamba has always displayed a knack for dressing up men in true dapper style!The go-to guy at his Bengaluru-based Signature's Bespoke Studio for his signature
prêt
and couture creations that mirror the city's ever-changing cityscape;credit: his ethics of delivering the best in quality and innovation. But one thing's for sure: Paresh's aesthetic spells sophistication and sharpness with covert touches of flamboyance, all of which seem to have positively resonated with the best of Bengaluru and beyond - from movie stars and industrialists, to CEOs and politicians.
2014 can best be epitomised by the evolution of technology and design. While it can't be denied that we love and despise both in equal measure, Paresh feels that this relentless advancement has been superseded by a demand for timeless quality and craftsmanship. This is the very reason that the luxury fashion industry has been gushing over all things bespoke this year.
More tangible has been the trend of wearing styles that look unassuming. This past year, Paresh noticed that uncontrived hues and natural tones were being interspersed with deep colours almost as if to offer the wearer a sense of calm within an increasingly chaotic world. Lastly, faux leather trimmings and accessories were all the rage in 2014, putting leather at the forefront of men's fashion like never before.
But 2015, says Paresh, will be driven by the following trends:
Easy-to-wear Monochromes set to trend again in 2015
Monochrome: Much like the
enthusiastic friend you've known forever, this classic trend is expected to return with a bang!
Well-cut suits will always remain in style
Well-cut suits:
The well-tailored, easy-fitting suit will stick around for yet another year.
The double-breasted jacket in statement prints will be trending in 2015
Double-breasted jackets:
From the traditional grey and navy to the revival of classic checks and pinstripes, right up to more adventurous tones like burgundy, olive green and white, double-breasted jackets will be trending in 2015. If you're willing to go a step further, prints and motifs including statement florals and polka dots will be making a bigger mark than ever.
Leather Accents
Patent leather
: If leather was big in 2014, its shiner cousin will bounce back to life in 2015. The gloss of patent leather shoes and accessories like a belt adds to a luxurious yet gentlemanly look, perfect to take formal wear up a notch.
.
.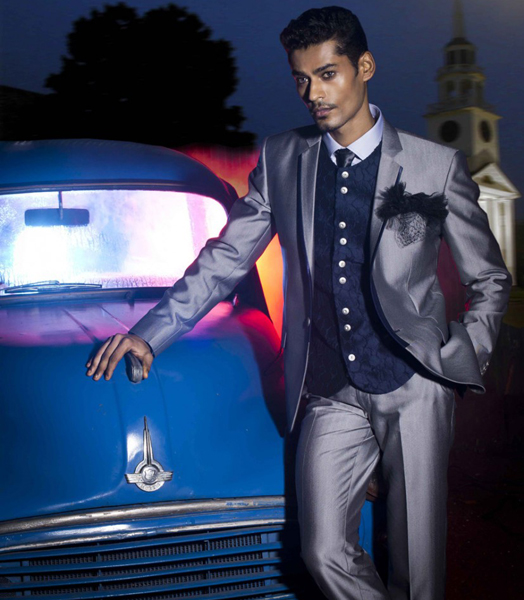 .
So how does one incorporate these trends into their wardrobe this coming year?
Paresh has just one thing to say: Trends and styles come and go, but it's vital to wear clothes that fit well and shoes that complement your style. This, and well-groomed hair never seem to go out of fashion.