IAnD Exclusive
Photography: Courtesy The Orange Lane
.
Shabnam Gupta, Principal Designer of the award-winning The Orange Lane design studio takes you through some upcoming trends in the interior design world, while sharing tips on how to weave them into any space…
2014 can undoubtedly be
labelled
as the year that brimmed with bold, new ideas in the realm of interior design. Says Shabnam Gupta, "2014 has seen strong design trends that took on a transnational approach and were accepted and loved by all." A trendsetter, known to lend shades of experimentation and eclectic, soulful touches to each project she works on, Shabnam reflects on standout trends of the year that was.
The most widely adopted trend of 2014, feels Shabnam, has been industrial and grungy interiors spotted in the new crop of restaurants and pubs across India and the world. Details like colours, texture and props easily turned this trend into a synthesis of wholesome design, she explains.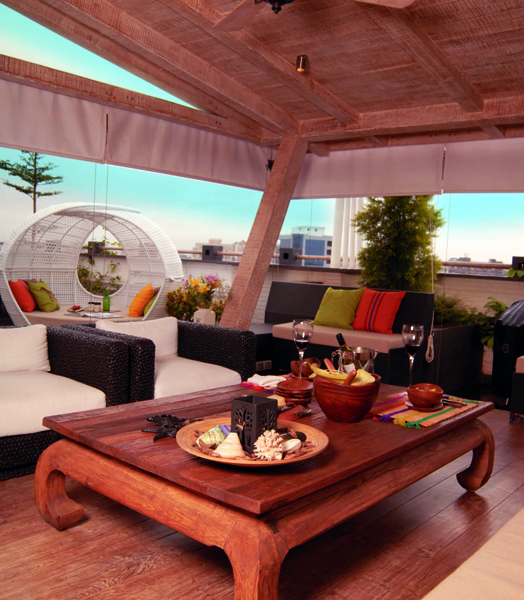 Seamlessness- indoors-outdoors
Adding character to residential spaces was the trend of using bright, textured fabrics against stark walls and neutral-toned furniture. The fact that it adds to the character of a room without being too much of overkill, she also calls our attention to the fabrics that were once solely reserved for the outdoors found their way inside, offering a greater flexibility of furniture placement with regard to spaces.
If 2014 was the year of experimentation in interiors, Shabnam expects 2015 to be more focused on tiny but vital details that matter and she is sure will make it big:
Sustainability:
A sustainable approach will be integrated into interior design to explore ways in which we can help save the environment.
Individualistic touch!
Art installations:
Winging on the sustainable trend, installations made from scrap - previously only displayed in public spaces - will now arrive indoors, to speak for the space or style of the project.
DIY
: The 'Do-it-Yourself' trend is definitely set to become a rage in 2015 with ideas and inspirations to make everything, from a wooden chair to a wall texture at home.
Lighting:
Lighting specialists will be the need of the hour to offer important information about all sorts of lighting options, from lumens to fittings, in a bid to achieve the desired look for a space.
Fluidity
in spaces and furniture: Iraqi-British architect Zaha Hadid's free flowing design and architecture that was trending in the mid-2000s has experienced a lull in the last few years. But this very trend, complete with monotone spaces and flexibility in material and shape, will be revived with new, transformed additions.
And how does a layman incorporate these without much ado?
From doing your bit for sustainability by reducing waste and using recyclable items, to creating installations from
all sorts of material; and exploring easy fun ways to make your own DIY design elements, Shabnam says, the key is your imagination and ingenuity in making your space exude your personality.
When it comes to lighting, Shabnam offers a key tip. "If there is an idol or installation that needs to be lit, use a floor light at an angle flushed into the floor facing upwards towards the object. This washes the front of the object with light more majestically than a regular ceiling-mounted lamp."