IAnD Exclusive
Photography: Courtesy Monisha Jaising
As we move into the New Year, prêt-à-porter and haute couture womenswear take on conscious new looking-into. Monisha Jaising equips us with what was 'hot' in 2014 and what will be in 2015!
An alumna of the American College of Applied Arts and the Royal College of Arts, Mumbai-based fashion designer Monisha Jaising is a keen observer of life from which she draws inspiration for her designs. She is known for her exquisite prints and youthful colour palette. Sleek cuts, exotic flare and a global influence catch everyone's attention every time a model walks down the ramp or an actress poses on the red carpet in a Monisha Jaising design.
The sophisticated and sensual designer with her coveted signature style talks to IAnD about fashion trends in womenswear that dominated year 2014 and style mantras that will be the highlight of the upcoming year.
Bling will still be in!
The year that was:
According to the acclaimed designer, sports luxe was the high point of 2014, while bold hues and high-shine finishes too were a popular trend. Sports luxe is, in fact, likely to continue in a big way in 2015, she believes.
For those, who want to catch on to the trend, sports luxe refers to ready-to-wear luxury sportswear that is cool, comfortable and yet modern. Fashionistas looking to update their wardrobe this year can consider buying - if they haven't already - ganjees, loose printed tops, crop tops, bomber jackets, loafers and wedge hi-top trainers.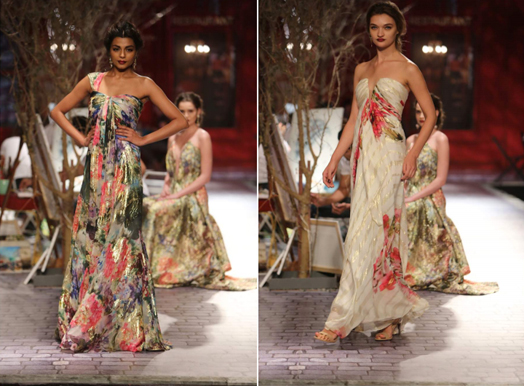 The breath of nature - florals are in!
Floral prints, too, are likely to be a rage in 2015 and will make a style statement through everything, right down to accessories.
Cut-outs and sheer panels are also going to be a big trend for the spring/summer of 2015.
The world of haute couture, meanwhile, will focus on iridescent fabrics, which Monisha believes "are the stuff dreams are made of" and will be a hot favourite, especially in metallic fashion.
The traditional touch!
And don't be shy to show a little skin because dé
colletage is in
, confirms Monisha. Whether you go delicate and girly or sleek and powerful, this trend will be a definite; all you got to do is look confident and carry it off with aplomb!