Photography: Courtesy the architect
.
Located on a busy street in Mumbai's Ghatkopar area is a fast-food hangout that is nothing short of a fine dine experience…
With a focus on brand name Achija, architect Sohil Valia of F.S.N.D Architects ensures that a guest's - or even a passerby's - attention first falls on the name of the restaurant. The gateway to Achija has been innovatively designed with entrance from between a larger-than-life orange acrylic and aluminum 'A' that rests on the ground, while the remaining nameplate rests on the balcony of the restaurant.
.
The next area that has been most focussed upon is the staircase leading to the first floor eatery. Sohil informs, "This was the most challenging aspect and played a big role in creating curiosity as to what awaits inside the flush glass-painted door." So recessed lighting anoints the steps and an eye-catching backdrop of randomly arranged frames creates a relief sculptural backdrop, leading the way into a open spoilt-for-choice seating arrangement.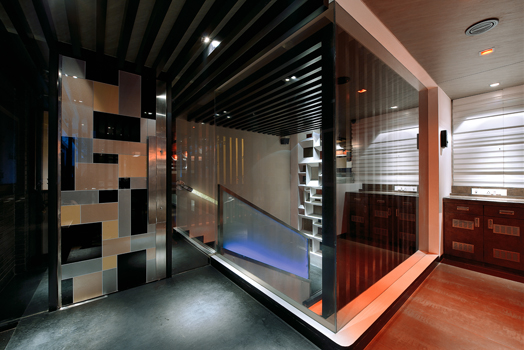 .
The cover of about 96 diners is sectioned off into group possibilities of 2, 4, 6 and 8 with provision for larger groupings, bearing in mind the basic tenets of hospitality design and the need to cater to kitty party groups, larger families and celebratory diners. Bench formats, loose chairs as well as fixed cantilevered seats and tables prevail in a mix that is crafted in subtle hues of grey, umber and white edged with black; lending the ambience a understated feel of sophistication. This is only enhanced once the lights (recessed under the sofas) are turned on!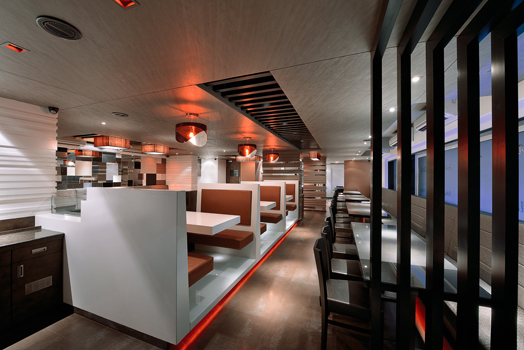 .
.
The orange hue of the lights serves as a perfect foil to the subdued colour scheme and helps mitigate the other challenge that faced F.S.N.D.Architects – a low ceiling. Keeping it partially open via wooden slats, an element of interest is created in the ceiling; and despite its low height, good ambient lighting is accomplished.
.
.
Routine aspects are ingeniously dealt with through storage within sofas; high-end Rexene for ease in maintenance; double-glaze windows to block out traffic chaos and the like.
Overall, horizontality accentuates the décor.
A noteworthy highlight is the camouflaging of two load bearing columns that have been clad with MDF – horizontally fluted to simulate a bar code and randomly integrated with mirrors for a chic effect.