Photography: Anand Jaju; courtesy the architects
.
Raw dynamism shows through inclined geometric planes as a skewed version of a bungalow in Bangalore ups the architect's design sensibilities…
Set in a tight urban plot on a narrow road, the design for the 5,826 sq ft bungalow responds to the client's desire for multiple levels and access to gardens with a contemporary expression.
.
.
The plan of the house is split into 3 rectangular boxes, where the middle one forms an atrium that changes profile across floors and constitutes the dynamic fulcrum of connection between the front and rear rectangles resulting in a pulsating central space.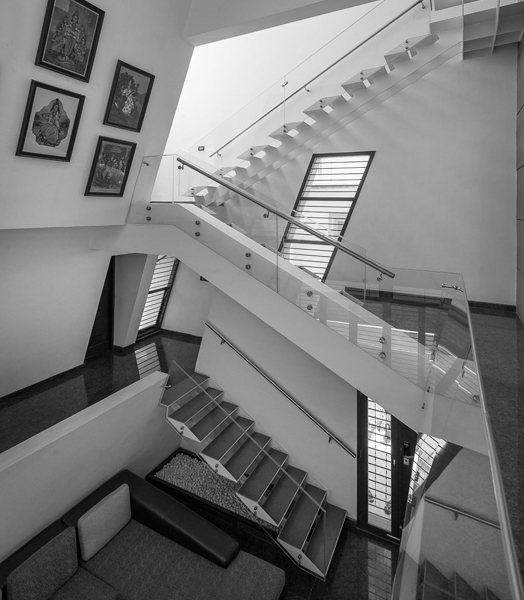 .
"The design is driven by an interest in an open house – one that is connected visually and aurally within," says Kiran Venkatesh, partner, InForm Architects. The three-part plan split is further complimented by a three-part vertical shift in the first three floors of the front box, where the dynamic end planes slant inwards and outwards forming an interesting and aggressive street façade.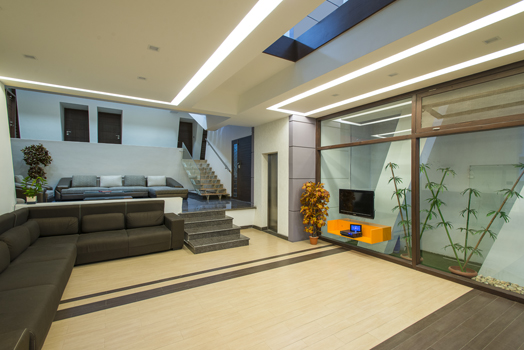 .
Different spaces open onto gardens and especially created slabs to enhance the green quotient. Sustainability being the backbone of Kiran's repertoire of projects, he allows for plenty of natural light and ventilation to flood the interiors viz. skylights, floor-to-ceiling glazing, pergolas, louvers, circular cut-outs etc.
.
Use of locally available materials such as granite, vitrified tile and engineered wood combination reduce carbon footprint without compromising on the interior-exterior equation. The strength of the architectural vocabulary negates interior embellishments; the simple interiors thus harmoniously offset the built form.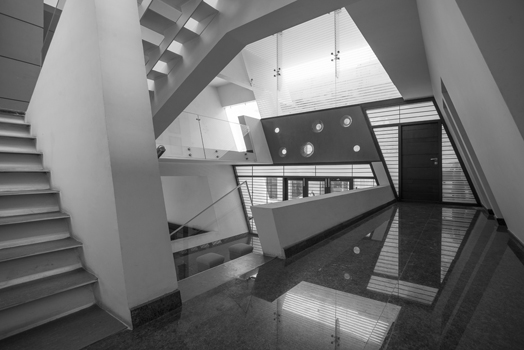 .
With space carved out for a semi-open car park on the ground floor, a small swimming pool on the second floor and the terrace developed as a penthouse suite, besides other regular features, Kiran has managed to provide the homeowners a home that is simply admirable - inside and outside.