By Marina Correa
Photography: Courtesy the architect
.
Effectively marrying the organic with the fabricated, Ar. Punit Sethi of IAD Studio crafts timeless appeal in a two-storey house for a doctor couple in Malibu Towne of Gurgaon in Haryana…
Linearity has helped the architect utilize almost every inch of the approx. 900 sq. m. plot, as he chisels indoor-outdoor spatial dialogue with a well-defined circulation system; besides, zoning of public-private areas, effective use of double-height spaces and fenestrations in the design palette coalesce to connect all the spaces visually and functionally.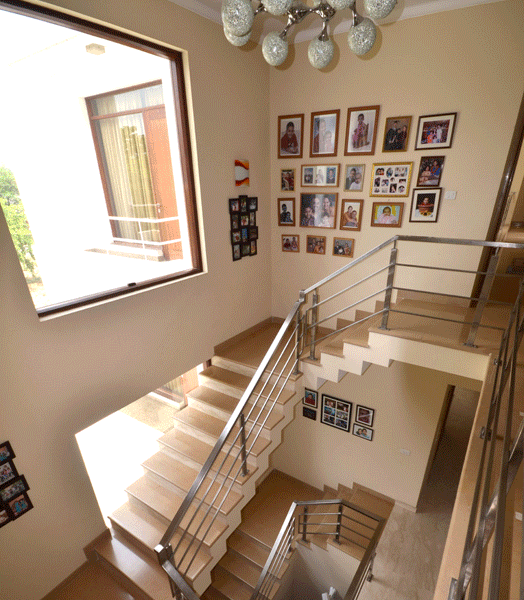 .
The USP of the design lies in its contextual nature. The home is responsive to the hot and dry north Indian summers and cold winters. The orientation of different spaces not only allows the winter sun to penetrate deep into the building but also screens out the harsh summer sun. For instance, the north-facing front terrace is ideal for a sustained summer use, while the rear space extending from the east-south axis and the cantilevered room above the pool makes for an all-season sit-out.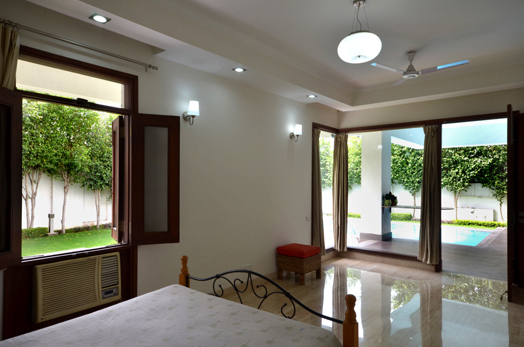 .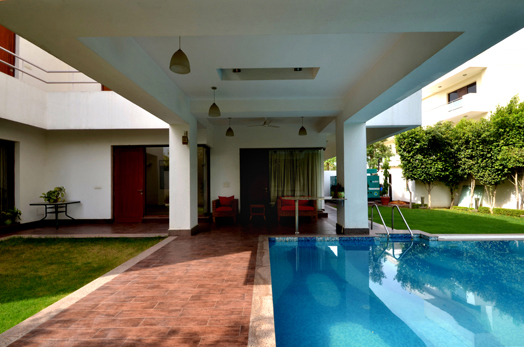 .
Interestingly, heightening the indoor-outdoor connection is the daughter's cantilevered bedroom that has partial glass flooring overlooking the pool; bay windows on both sides framing nature from all angles.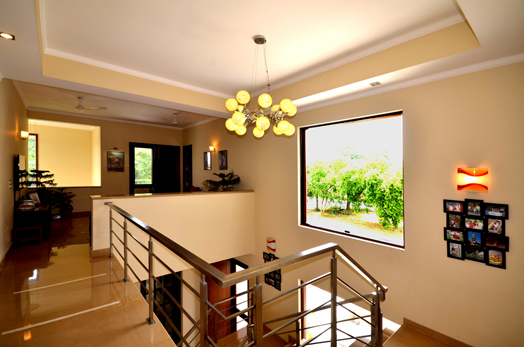 .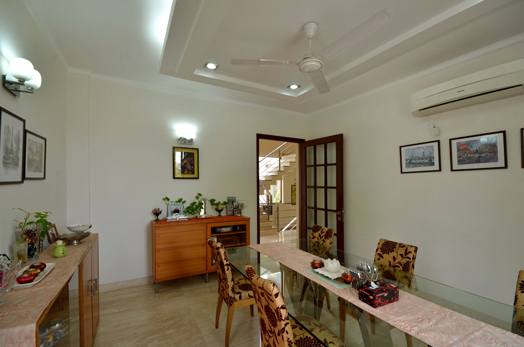 .
Sustainability is woven into the project viz. shading of areas, insulation of terraces and cross ventilation; illumination of spaces via natural light; solar powered systems; recharging of ground water and technologically advanced pool filtration system.
.
.
Elegantly polished finishes characterize the interiors such as use of imported stones with a combination of laminated floors. In comparison, the outdoors are green and rustic coupled with generous use of granite and tiles juxtaposed against grass and vegetation.
Known for designing spaces according to the 3 Ss -- situation, surroundings and society, Punit's philosophy diligently comes through in this pro

ject

.