Photography: Courtesy SM Studio
Juxtaposing uber living in the lap of nature, SM Studio proposes super luxurious apartments
for an upcoming multi-level housing complex
in close proximity of the scenic Akkulam lake in Trivandrum.
An idyllic setting for those who do not want to compromise on their luxury quotient, yet want to be in the midst of nature, '
the blue waters by heera'
is a sample residence of 3500 sq. ft. in a 2.5 acre plot.
Although directly in contrast – traditional architectural makeup with an avant garde interior - the principal idea essentially emerges from an effort to integrate the inside and outside. Conseqeuntly, the design attempts to draw a great deal from its surroundings.
The architecture presents a clear resolution of spaces and a distinct design sense led by simplicity, sensitivity and a certain level of opulence. The residence is defined by distinction in public and private spaces both spatially, and by its interior details. The formal living, family lounge, dining and bedroom with wide openings extend beyond the physical boundaries, onto a wide verandah that opens out to the lake and landscape beyond. All the primary spaces are designed to extend the flow of natural light inside, and the central passage that leads to the bedrooms is lit by a tri-layered, acrylic screen that is installed as a false ceiling (which visually holds the space together).
.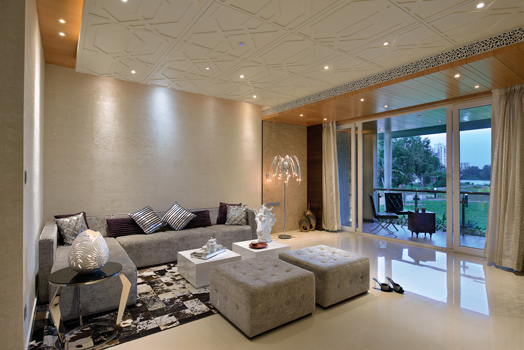 .
Indulgence could be the key factor here, as preference for a chic, contemporary lifestyle is translated in many ways: laser cut, POP false ceiling with an intricate pattern; metal screens along common areas; different flooring patterns and a variety of wall finishes lending

colour

and vibrancy to the spaces inside.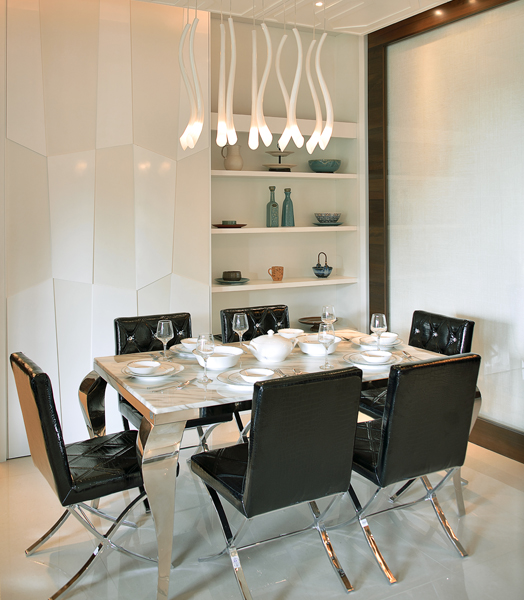 .
This diversity of materials and finishes, however, in some way tends to affect the overall coherence of the design. Yet, the large openings offer framed vistas, facilitating just the premise – luxuriant living amidst nature! If only, the opulence could have been understated, it could perhaps have been in better harmony with its surroundings.