By Marina Correa
Photography: Kunal Bhatia; courtesy the firm
Read Time: 2 mins
.
Quirk Studio designs a contemporary residence for a young couple and their toddler with the onus on a discerningly collated material and textural palette...
This 2,400 sq. ft. residence that emerges from integrating two three-bedroom apartments into two ensuite bedrooms with walk-in wardrobes, a den, living-dining, and staff quarters besides the perfunctory areas; culls out a spacious and seamless vibe.
The open spatial plan hosts three distinct seating areas, each exuding a vibe of warmth and sunshine. The dining area that spills from the living is minimalist and sustains the chic design vocabulary.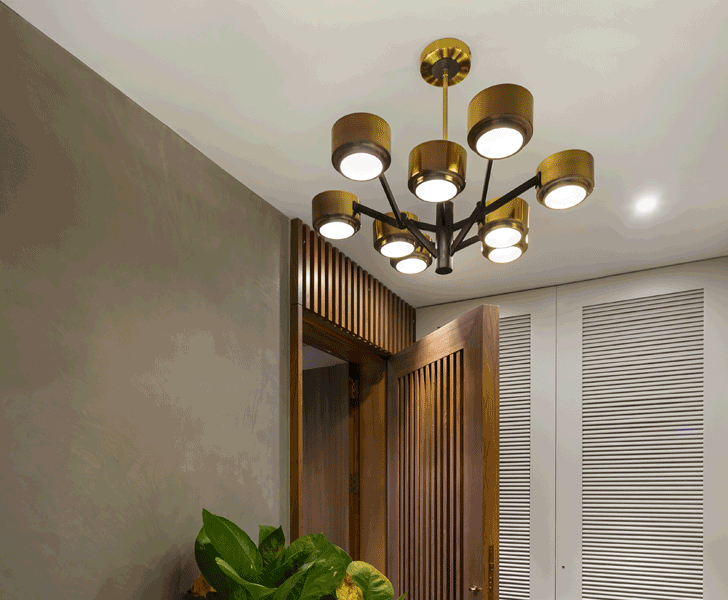 .
Nuggets of style dot the canvas right from the entrance foyer that shows off chic fluted wood and brass accents almost instantaneously endorsing elegance and contemporaneity. Yet, it hardly prepares you for the expansive living room with dining and balcony, spoiling you for choice of seating and setting.
.
The feel-good aura extends to the two bedrooms and the den, which is treated as a cosy hideout enveloped in a warm wooden coffered ceiling with a wooden fan to match!
.
.
.
.
One area of the living room also features a wood-finished ceiling juxtaposing it with the neutral envelop of beiges and greys that wrap the walls and flooring, while pops of vibrant hues are layered through soft furnishings, accessories and eclectic works of art. Close at the heels of this thematic are custom-designed furniture pieces, chandeliers, and a bespoke highlight wall that work towards infusing oodles of character.
The cool and warm palettes skilfully play off one another as grey ceramic tile flooring is paired with beige panelled walls, finished with an interesting twist -a metal skirting.
.
.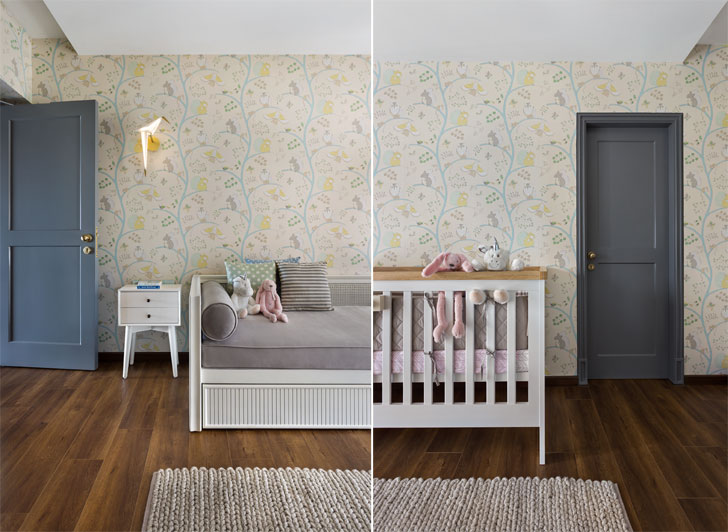 .
.
The pièce de résistance is the unexpected elevated platform in the living room set against a backdrop of 3D handmade tile cladding, silently proclaiming a vantage view. The concrete-finished dome coffee table sitting across a striking backless-chaise lounge, open-able doors to the balcony that extend the area beyond its physical dimensions, the organic dining table, brass accents in light fittings and the like… trump clean lines and spaciousness as the dominant features.
Besides taking care of the couple's choices, soft flooring, low furniture, and minimal interventions guide the constructs in creating a toddler-friendly space and ensuring the schematic would hold good in the near future.
Design Firm: Quirk Studio
Principal Designer/Architect: Disha Bhavsar and Shivani Ajmera
Built-up Area of project: 2400 sq. ft.