Photography: Orproject, Shovan Gandhi, Suryan & Dang; courtesy Orproject
Read Time: 2 mins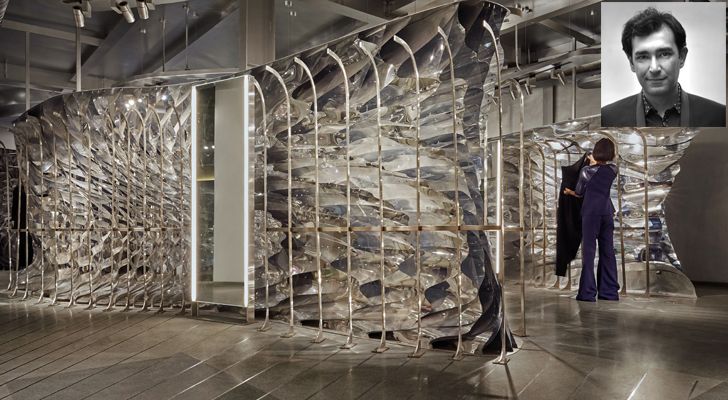 Amit Aggarwal Flagship store (inset) Ar. Rajat Sodhi
Imparting depth and dimension to fashion designer Amit Aggarwal flagship store, Orproject's design of shimmering surfaces and wave-like forms alter visual perception to offer a surreal visitor experience…
A mutual appreciation for biomimetic design underlines Orproject's collaboration with fashion designer Amit Aggarwal. The store's architectural character mirrors the designer's approach to fashion – novel materials, unique textures, varying transparencies, and dazzling reflections - all resulting in sculptural pieces.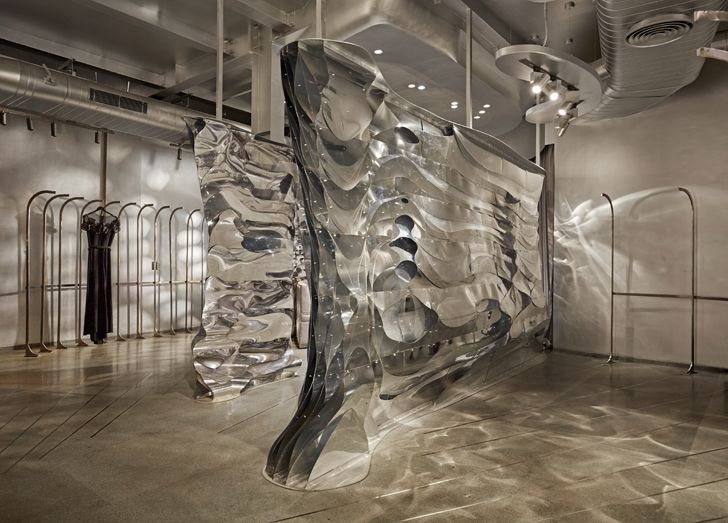 .
.
.
The ceiling-hung partition wall system, the store's pièce de résistance, is akin to a work of art. With every view and angle revealing a different composition of scales, curvatures and opacities, the fluid walls magnify and diminish reflections, offering fleeting, distorted glimpses of passing silhouettes. Elegantly creating flowing spatial divisions within the external shell, the 110 ft long and 8 ft high walls divide the 1400 sq. ft. space in line with programmatic requirements. The spatial arrangement governs pattern modulation and the material's diaphaneity, as it changes from opaque to semi-transparent from the display to the transition area.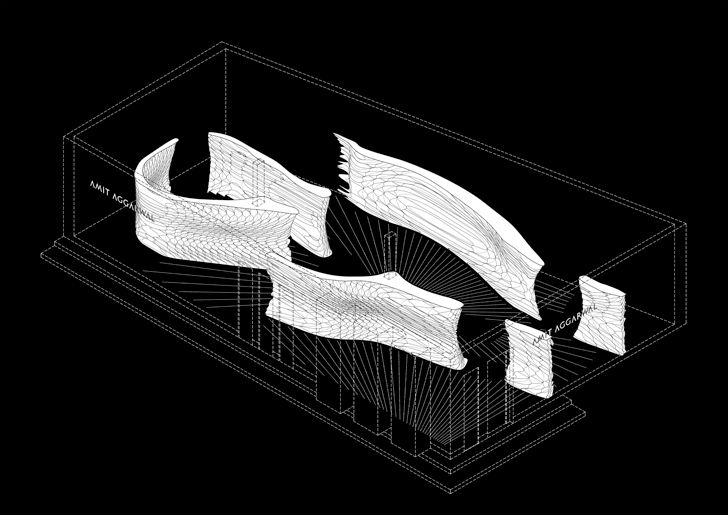 .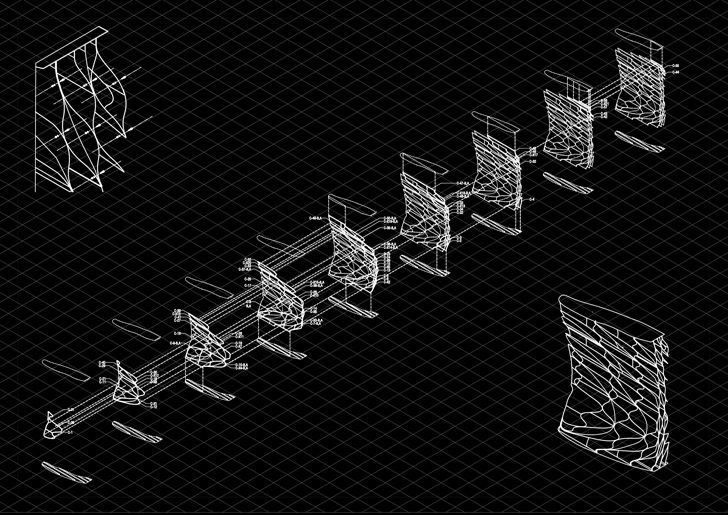 .
.
Made of 1mm thick, transparent, polycarbonate sheet laminated with a reflective plastic film, the folding wave system employs 2650 unique panels, laser-cut with holes and etched with panel IDs. Determined by joint type, over 5200 custom-length screws hold these panels together. Each cell comprises of 3 panels, the outer layers held together in compression and the middle in tension. The cold bending of panels allows for a rigid base element, while the flanges in the floor and a ceiling plate guide the directionality of each cell.
The project's challenge lay in its execution on site, the existing structure limiting reach for certain fixtures. The assembly sequence put in high priority difficult locations, repeating layer by layer, from left to right and bottom to top, till all panels were secure.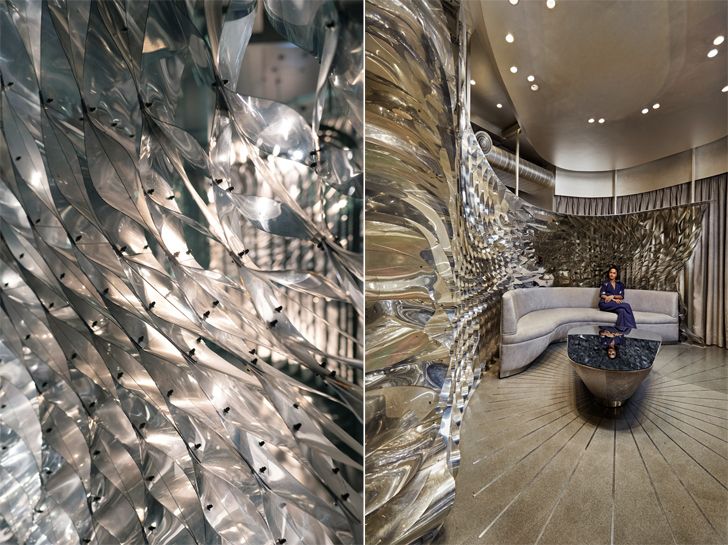 .
.
Through static, complex geometry that represents movement, Orproject creates a bubble of shining silver, where the play of light renders a mesmerising picture.
Project Directors: Christoph Klemmt, Rajat Sodhi
Project Architect: Ananya Kango
Project Team: Balaji Mohan Rajkumar, Komal Sodhi
Interior Design: Ava Studio
Built-up Area: 1600 sq. ft.
Carpet Area: 1400 sq. ft.
Location: Mehrauli, New Delhi