By Marina Correa
Photography: Phxindia; courtesy the architects
Read Time: 2 mins
De'Caves Design Studio by Chitte Architects (inset)l-r: Vishal & Parth Chitte
Chitte Architects design an upbeat office for themselves, drawing inspiration from cave dwellings to create the dynamics conducive to a creative atmosphere…
Located on the first floor of a busy commercial complex in a noisy locality in Vadodara, the De' Caves Design Studio is a dynamic space that holds a variety of elements harmonized into a curvilinear setting; the design language completely mitigating the challenges of noisy surroundings and a heavy structural grid.
.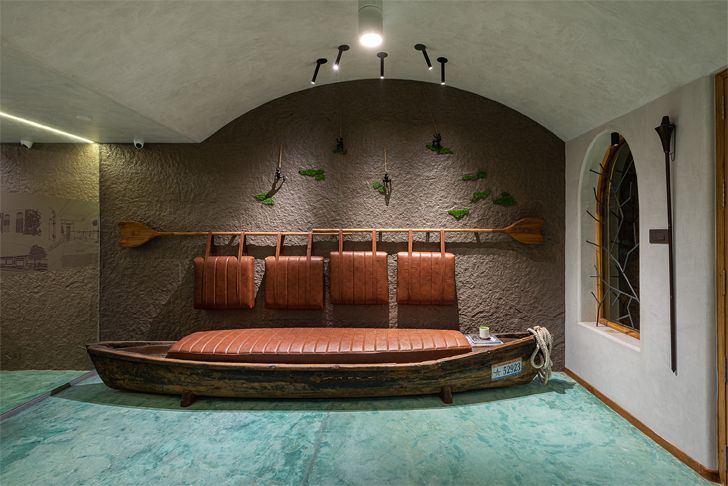 .
.
The rectangular layout is rounded off at places and finished with unfired flexi-clay cladding - a mud-like material. Partially straight-lined, partially arched, the interior optimises day light by placing work desks along the window openings at the periphery and culling out the reception area and a central courtyard-esque breakout space with parametrically designed seating (like dinosaur teeth) grabbing attention. The Brahmasthan (central point) features a deep circular cut-out in the ceiling with a stretched fabric over a light fixture, especially chosen with a sky theme giving an actual open-to-sky feel!
.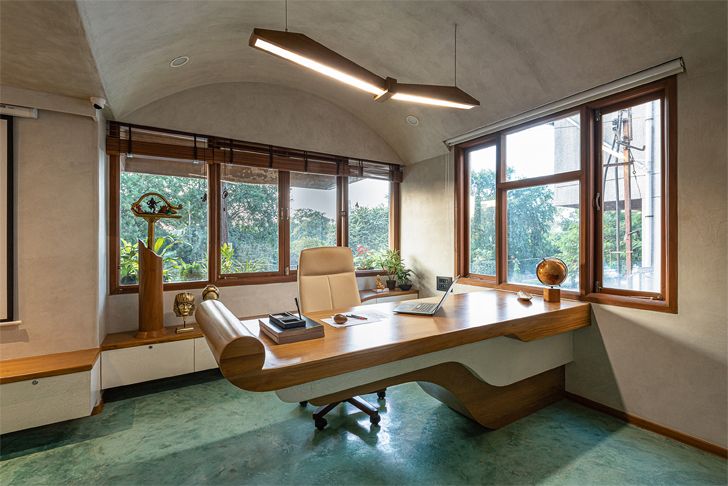 .

Floor-to-ceiling glass sections the office into two prime zones – the work pool and the executive discussion areas. Design nuances pepper the entire space from aesthetically designed wooden members that lend support to floating desks to green amoeboid moss-like elements near the window, to an entire wall that displays photographs of the firm's portfolio mounted on box-like squares in an angularly positioned metal grid; the latter camouflaging the doors to the utility areas.
.
.
.
An interesting ceiling literally caps the design as exposed-concrete-like paint finishes the ceiling that is fashioned into vaults and domes along with a play of differing ceiling heights culling out a distinct ambience, whilst blue IPS flooring alludes to flowing water tying in with the overall concept. This also successfully mitigates the heaviness of the bulky columns and beams.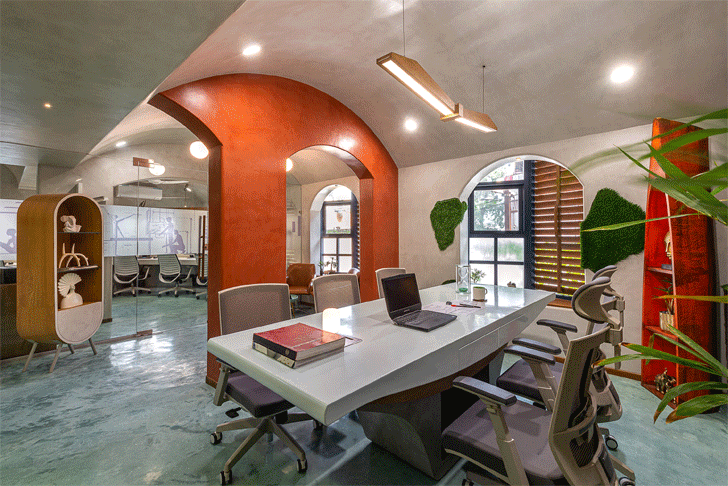 .
An arch painted bright orange depicts partial continuity, tree stumps constitute stools, bespoke polished tree branches mimic door handles, 'tree trunk slices' are assembled as the door knob, intentional use of greenery and even faux grass carpet in the central space, and an antiquated boat upcycled into a cosy seater in the reception area not just pique visitor curiosity, but complete the thematic whilst creating an inward-looking dynamic space, promoting interaction and dialogue.
.
Project Name: De' Caves Design Studio
Design Firm:
De' Caves by
Chitte Architects
Principal Designer/Architect: Ar. Parth Chitte, Ar. Devendra Chitte, Interior Designer Vishal Chitte
Carpet Area: 2,000 sq. ft.
Location: Vadodara, Gujarat.