Photography: Courtesy Redwall Design Studio
Read Time: 2 mins
.
Catering to popular perception and a conventional mindset, Redwall Design Studio crafts an organic ambience, complete with green tones and pine wood, to host the Arogya Organic produce store in Bengaluru…
The retail realm works on a whole lot of aphorisms that have a proven track record; consequently, moving away from the norm to think out-of-the-box becomes a risky aspect especially when large investments are at stake – both in inventory and ambience.
More so in this case, where the newness of the concept of organic produce is yet to make an en masse impact. So, the designers go all out to create the projected earthy ambience by recreating the feel of a village market in a contemporary setting.
.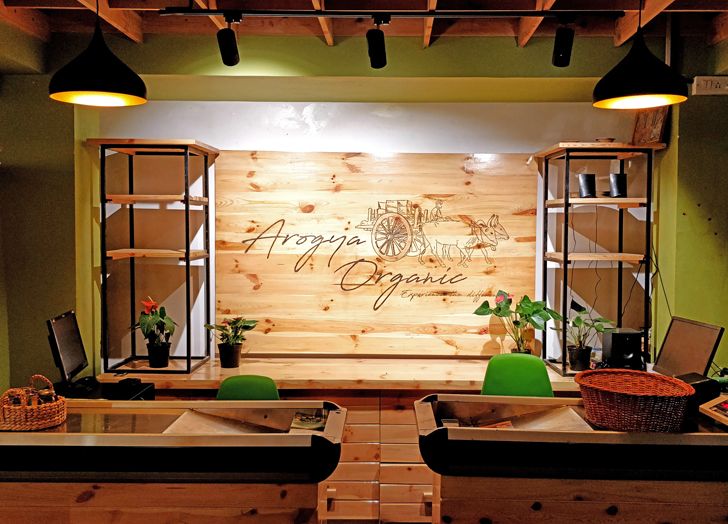 .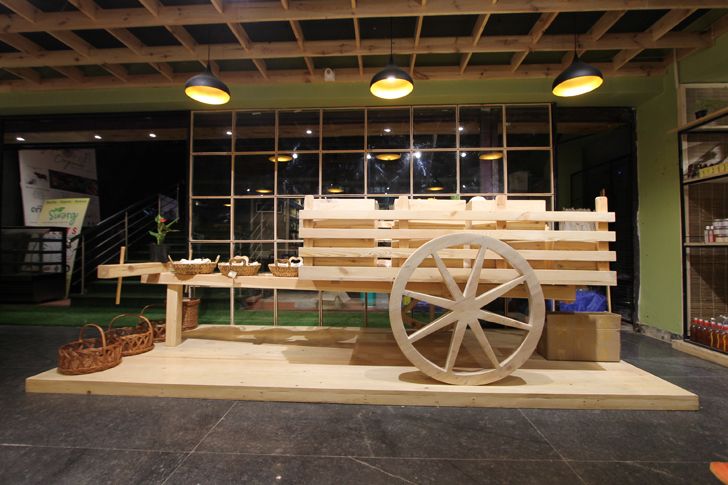 .
.
.
.
Homing in on the pragmatics behind the organic concept, the farmer's bullock cart becomes the emblematic signatory laden with jute baskets carrying produce. Display shelving in pine wood with wooden boxes a la crates holding fresh produce, and inverted barrels as standalone display spots authenticate the ambience. Metal grid shelving in varying heights arranged in typical linear lanes completes the shopping wherewithal with bamboo partitions periodically reinforcing the basic thematic. Wrapping the whole concept together is the grid ceiling – also in pine wood – that sustains the earthy design language backed as it is by a dark grey lining.
.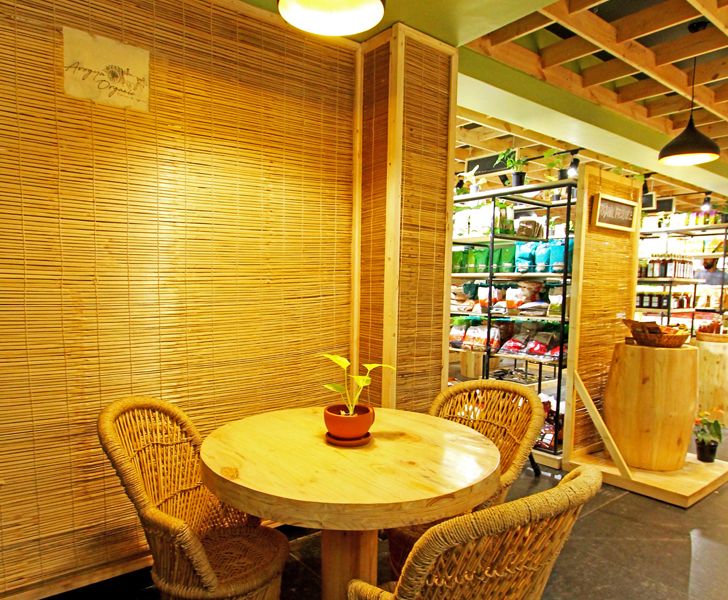 .
.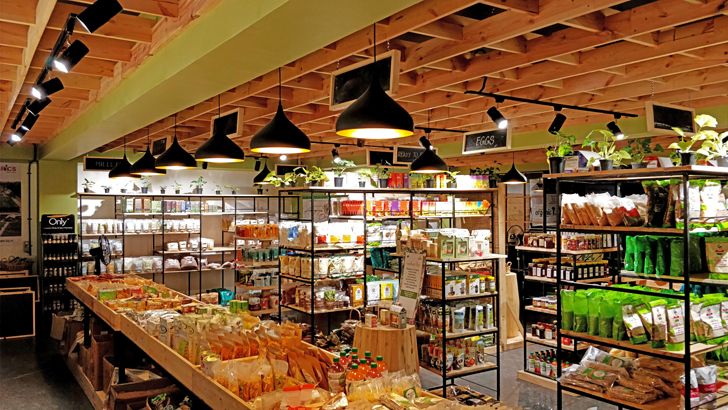 .
However, the designer's expertise stands out in projecting the store upfront despite it being in the basement of a commercial complex. A glazed wall with sleek metal work graces one end of the store and succeeds in reflecting light to the other end of the space to create a clear visibility to the store straight from the main road. Additionally, low display units randomly dispersed in the milieu allow for light clearance as track lights, pendent lights and spotlights highlight displays and products.
The brand tag line "Experience the difference" aids the final finishing touch to this desi styled retail brand, cocooned in its literal nature, yet hitting home in a customer-knows-best sensitive pocket of domesticity.
Client: Arogya Organic –the organic store
Design Firm: Redwall Design Studio
Principal Architects: Kiran Kumar MR and Sudeep Dev M
Built-up Area: 1500 sq. ft.
Carpet Area: 1367.84 sq. ft.
Location: JP Nagar, Bengaluru, Karnataka.