By Savitha Hira
Photography: Courtesy WID2020+Team, The HECAR Foundation
Read Time: 3 mins
Inspiring stories, focussed participation, cross-cultural learnings and words of encouragement… a few tears, and lots of empathy characterised the Women in Design 2020+ International Conference that concluded in Mumbai on Jan 10, 2020.
Delving into different aspects of the architectural profession with various dynamic presentations, addressing issues at the grass-roots level, discussing the simplification and mainstreaming of systems, and debating special provisos for women… sums up the presentations, panel discussions, films and camaraderie that the conference was abuzz with for the duration of its three-day tenure.
But what was more palpable was the way the women speakers weaved in their sensitivity and what can be safely termed – a woman's insight – into the everyday facets of the profession of architecture.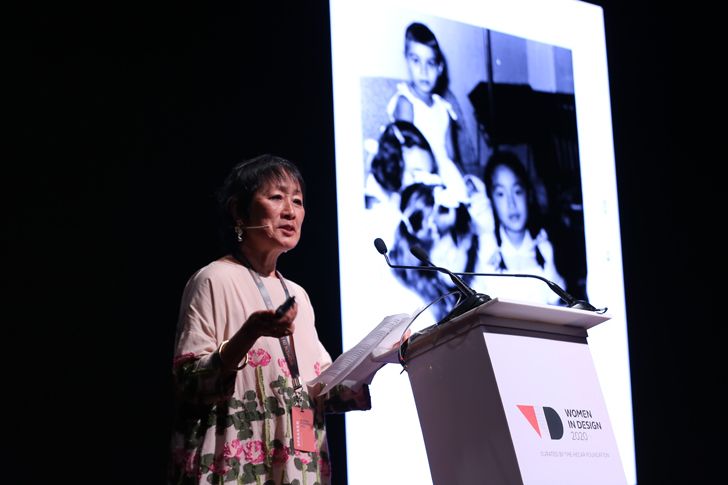 Ar. Billie Tsien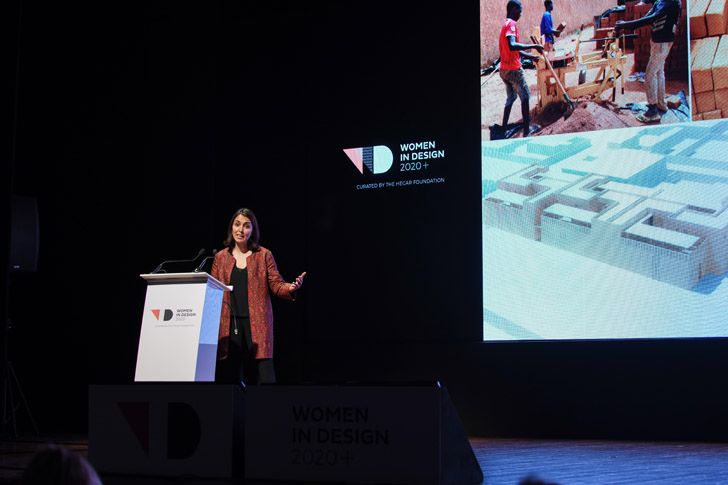 Ar. Yasaman Esmaili ©Lafarge Holcim Foundation for Sustainable Construction
Artist Morag Myerscough's work is a reflection of her joyous spirit, rooted in sustainability while tying in strong community ideologies.
Stalwart speakers like New York architects Billie Tsien and Annabelle Selldorf; Dr. Laila Iskandar from Cairo; London-based graphic designer, Morag Myerscough; Executive Director-Pritzker Prize (architecture's highest global honour), Martha Thorne; National award-wining director and producer, Vibha Bakshi; Ar. Elizabeth Vines from Australia… and many many more kept the audience engrossed in the myriad aspects and concerns of the profession.
It is said that a woman's strength is unfathomable. Imagine the strength of thought, purpose and vision that came together when these 'women in design' conferred on a single platform to relate and learn from their individual passions, experiences and underlying connectedness. Some of the issues that went on the radar were:
Urban conservation and sustainable practices

Inclusivity in design

Contextual importance of the built form

Necessity for green cover

Humanism in design

Architecture for community

Empowering design with value systems and

Breaking the stereotype of a woman – especially a woman architect.
It is not as if women were never in the profession or have become prolific of late. A 2018 documentary, City Dreamers – screened at the conference showcased four trailblazing women architects namely, Phyllis Lambert, Blanche Lemco van Ginkel, Cornelia Hahn Oberlander and Denise Scott Brown, who have been working, observing and thinking about the transformations shaping the cities of today and tomorrow for over 70 years. This revisit of a piece of history must prove doubly inspiring and motivate the young student architects, who enthusiastically presided over the sessions.
Prof. Martha Thorne, Executive director of Pritzker Architecture Prize expresses the importance of championing the stories of women architects and across awards and academic platforms.
Prof. Salma Samar Damluji, who works in the war-torn zone of Yemen and the Middle East shares the intricacies of mud brick architecture and importance of protecting the build heritage of the world.
Two parallel thoughts took centre-stage throughout the conference: the first that architecture and design cannot exist in silos. Various disciplines intermingle and interact to qualify good design. Secondly, women achievers are just that – architects and achievers primarily. They do not want their womanhood to be a precursor to privileges or handicaps. They just want to be acknowledged as any professional would and should be acknowledged.
Ar. Nandini Somaya Sampat
Ar. Brinda Somaya lighting the lamp
The key take-away – in a nutshell – that stood out like a beacon was that design and architecture is human-centric and interdisciplinary. In that it serves a complexity of layers that need to be regulated responsibly by always putting people and the community at large at the forefront. In its execution, lies strategy, responsiveness, responsibility and vision. In its impact, lies positive change.
The Women in Design 2020+ International Conference organised by The HECAR Foundation under the aegis of Ar. Brinda Somaya - Founder Trustee of The HECAR Foundation and ably aided by Ar. Nandini Somaya Sampat and Ar. Ruturaj Parikh. It was held at Nehru Centre Auditorium, Mumbai from 8th to 10th January 2020. 37 speakers and panellists from India and across the world shared their stories, projects and journeys via presentations and panel discussions on pertinent issues underlying the design profession.
An adjunct to the conference – an exhibition titled "Design Manifesto" opened an evening prior to the conference and is on view until the 20th of February 2020 at Goethe-Institut Max Mueller Bhavan, Mumbai, India.