IAnD Exclusive
Special Feature: Looking Back: Looking Forward
By Beverly Pereira
Photography: Courtesy the designers
Read Time: 3 mins
.
Three Indian fashion designers opine on what was big in 2019 and what can be expected to be even bigger in 2020…
Trends in the world of fashion, as with any other creative industry, are transient. They can be cyclical even as some are outright timeless. Well into the first year of a new decade, we can only wonder what's to come. We entrust three Indian designers with the task of rounding up the biggest highlights of the year that was, while envisaging the trends of 2020.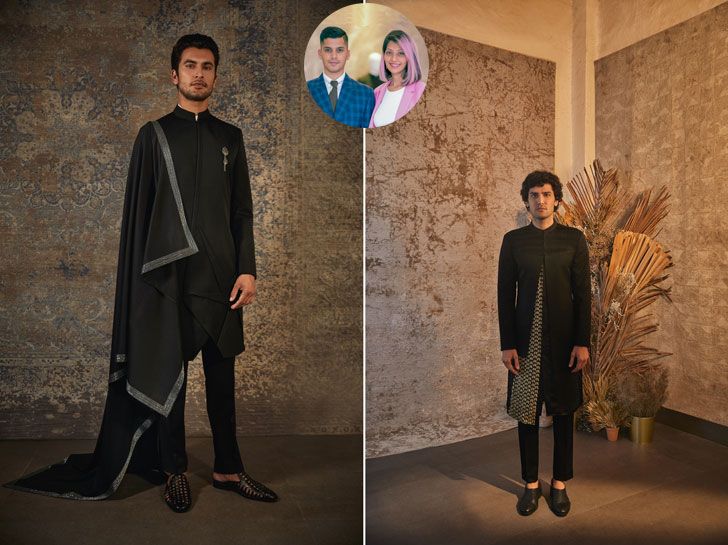 Asymmetrical cuts on men's Indianwear will continue to be popular as menswear goes experimental in 2020 (inset) Designers Sarah & Sandeep - Photo Credit Sarah & Sandeep
Menswear: Off-centre with a chance of minimalism
Experimentation in menswear trumped monotonous styles in the past year. Mumbai-based menswear label Sarah & Sandeep, known to stay ahead of the game in Indian and western wear, believes that 2019 was a phenomenal year for the transformation of formal wear. According to director and co-founder Sandeep Gonsalves, 2019 saw brands experiment with lighter hues like sage, mauve and blush for blazers and suits, and asymmetrical cuts on sherwanis with fabric manipulation. He expects the experimentation to evolve in 2020 when he says that geometric designs will replace the floral trend.
Embroidery and clean cuts on double-breasted suits will be a trend to look out for in 2020 - Photo Credits Sarah & Sandeep
He also believes that "minimal yet impactful embroidery" will define western styles for men. Menswear brands will look to pay homage to the era of highly stylized men's suiting this year. Could he be referring to the return of 'The Great Gatsby' with a modern twist, perhaps? Au courant men will be dressed in double-breasted suits in lighter colours like mint, sky blue and ash-grey, confirms Gonsalves.
The bandeau/bra-top/bralet trend will be interpreted in many ways in 2020, says designer Rhea Pillai Rastogi (inset)- Picture Credit Rhea Pillai Rastogi
Womenswear: Loud, proud and inclusive
If '90s-inspired fashion slowly crept into our wardrobes last year, it has arrived with a bang in 2020. Loud shapes—OTT sleeves, earrings, glasses or bags—were tremendously popular in 2019, says designer Rhea Pillai Rastogi, whose flattering cuts have won the hearts of many. "Womenswear in 2020 is headed towards the go big or go home neon look. From maxi dresses to co-ords in eye-popping shades of green, blue and other neon hues, this trend will be big again," she shares, adding that the key is to keep accessories minimal. At the same time, she believes all things elemental—colours inspired by the sea, sand, earth and sky, and textures plucked from nature itself—will be something to watch out for in 2020. The bralet, bandeau and bra top trend interpreted by many a designer will stick around this year too.
Earthy tones 2020 by Fendi - Photo Credit Fendi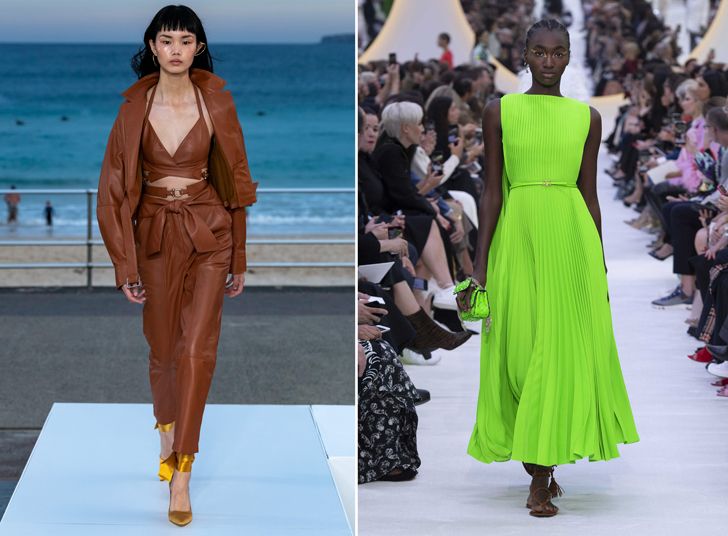 Jonathan Simkhai two-piece co-rds & Valentino neon maxi SS2020 - Photo Credit the designers
Photo Credit Rhea Pillai Rastogi
Photo Credit Rhea Pillai Rastogi
The androgynous suit—classical tailored styles and sexy draped silhouettes—created a buzz last year, as did faux leather in the form of detailings, trims and two-piece co-ords. And the latter trend is here to stay.
Heart to Haat uses end-of-line fabrics to create entirely new products (inset) Designer Karishma Shahani Khan- Photo Credit Heart to Haat
Sustainable fashion: More than just a trend
The past few years have seen a rise in homegrown labels with a focus on sustainable practices. In 2019, one saw dozens of vintage stores popping up on Instagram. Karishma Shahani Khan of Ka-Sha, a womenswear label that celebrates the handcrafted, believes that more people are now open to using pre-loved clothing acquired either at vintage stores or via clothes-swapping events. "It's great that India is looking at conscious clothing as more than just a stereotyped aesthetic," she says, adding that upcycled clothing, crafted from end-of-line fabrics and materials that would otherwise be discarded, is finding an audience. In fact, it was the company's zero-waste policy that led her to create the brand Heart to Haat, which designs products made from fabric waste using patchwork and quilting, right down to packaging crafted from upcycled woven sacks.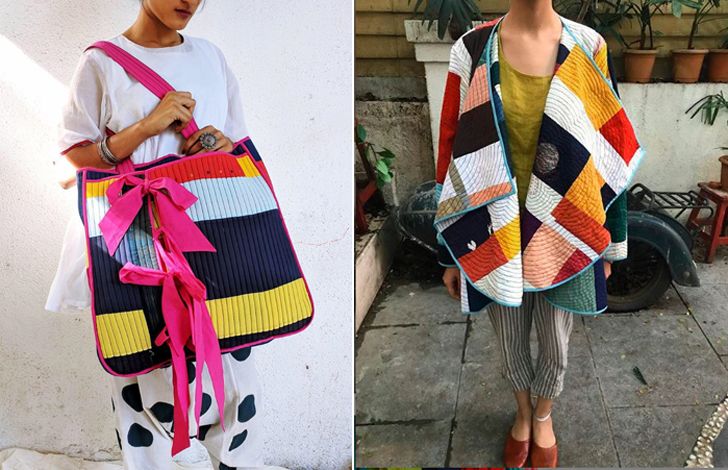 Heart to Haat uses end-of-line fabrics to create entirely new products - Photo Credit Heart to Haat
At the start of the new year, Shahani Khan is positive that sustainable fashion is headed towards being more than just a trend. "It's here to stay, ensuring accessibility to conscious products not just in fashion, but also those that contribute to a well-rounded conscious lifestyle," she says.
Participating Designers:
Karishma Shahani Khan from Ka-sha India
Sarah & Sandeep from SS Homme
Rhea Pillai Rastogi