IAnD Exclusive
Special Feature: Looking Back: Looking Forward
By Ar. Vinita Wagh
Photography: Courtesy the architects
Read Time: 3 mins
Workss by Architects Mahesh Naik, Sanjay Prakash, Morphogenesis and Yatin Pandya respectively.
The concept of sustainability is constantly evolving to encompass a growing number of ideas. IAnD speaks to four distinguished architects championing the cause to uncover ways in which designers have explored this umbrella term in 2019. As the global focus shifts towards climate change and resilient solutions, they explain the strategies that need a boost and how ecological and climate sensitive architecture expects to take shape in 2020.
Ar. Yatin Pandya, founder of Footprints E.A.R.T.H., believes designs should take inspiration from the wisdom of yesterday, aspire for tomorrow and be human-and-ecology centric. Gaining steady momentum, he says, is green rating certification, vegetation, landscape design, double-skin facades with porous outer layers and environmental computational software.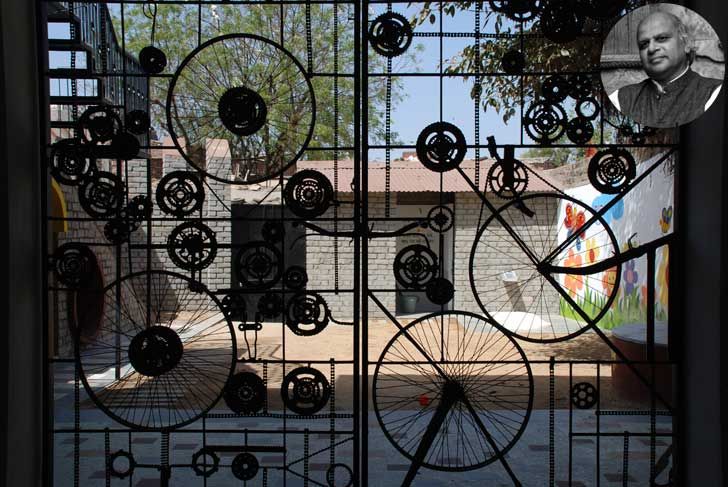 Gate made using cycle wheels (inset) Ar. Yatin Pandya
Alternately, the larger focus remains on green products, gadgets and accessories. Region-specific, time-tested solutions, he opines, should push ahead rather than technology-focussed ones. He stresses on the increasing importance of often neglected environmental space design, insulation strategies, natural ventilation, maximising daylight and mutual shading. And 2020 he believes, would see the reduction in consumption and reuse/recycling of waste.
Bamboo construction(inset) Ar. Sanjay Prakash
Bamboo Research & Training Centre in Maharashtra- ongoing project
Bamboo Research & Training Centre in Maharashtra- ongoing project
Conventional methods don't cut it anymore, says Ar. Sanjay Prakash, principal architect of SHiFt – Studio for Habitat Futures. While he cites responsiveness towards market, sites and materials to have become popular, he observes client awareness increases towards these trends. Design must be sensitive to the dynamic conditions of the ecology, he says, optimising resources and using locally available bamboo, fly ash, stones and other earthen materials. Highly industrial materials and design that creates a negative impact on the microcosm must take a backseat. He also believes the Public Private Partnership model to make immense impact. Private trusts run the show for public works, ensuring the appointment of better designers and conservation of resources, in turn forgoing the government's handicaps for the same.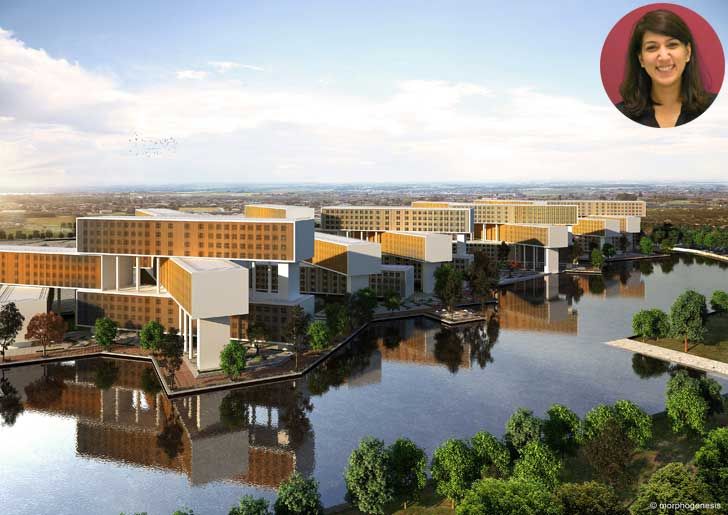 World's largest net-zero campus for Infosys, Nagpur (inset) Ar.Isha Anand © Morphogenesis
India Glycols Headquarters © andré j fanthome
Campus for Infosys © Morphogenesis
Projects Director at Morphogenesis, Ar. Isha Anand calls attention to the facets of design that have undergone change - project typologies, systems, materials and furniture. She notes a shift from conventional construction materials such as steel and concrete to timber from FSC sources and 3D printed structures in concrete, earth and agricultural waste, in turn leading to reinvention of typical residential and office building typologies. She believes the construction sector to be a major contributor to the current degraded state of the planet and advocates that architects must address it. While energy efficiency and net zero as a concept are becoming obsolete, carbon neutral and regenerative architecture with zero environmental impact, she says, should be the backbone of design henceforth.
Organic architecture - residential (inset) Ar. Mahesh Naik
Organic architecture - residential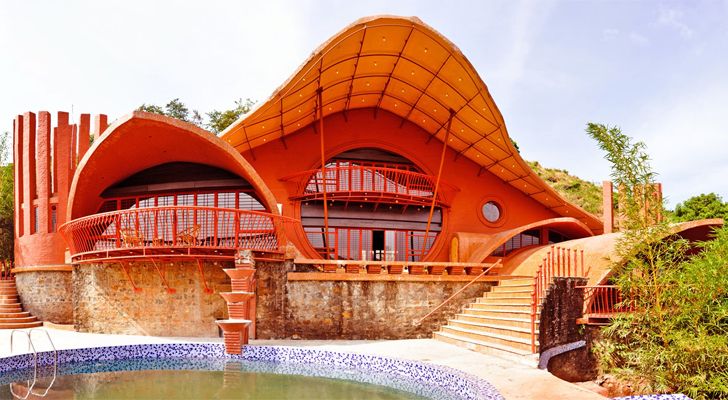 Organic architecture - residential
Ar. Mahesh Naik supports organic architecture as a more sustainable way of design that endures the test of time. He conceives such designs to be based on the nature of material and the entity that endures the test of time. Architecture here forwards, must strive to be nature-centric, he says, while the design must find a way inside-out.
With so much at stake, the overall sentiment veers towards championing sustainability as a movement and leveraging the knowledge of traditional and technological domains for an enduring future.
Participating Architects: