Photography: Marina Correa
Read Time: 2 mins
.
The grounds of Chhatrapati Shivaji Maharaj Vastu Sangrahalaya (CSMVS), Mumbai, have come alive with a humungous, dinosaur-like, playfully interactive installation of books for children, symbolically reinstating the importance of education and knowledge-sharing…
'House of Books' and 'Bookworm' are the two buzzwords that will continue to define the interactive installation at the CSMVS Museum grounds for the next two months.
Breaking away from the intimidating, stuffy and rules-heavy libraries ubiquitous across the country, and the growing disconnect with physical leisure reading in a precipitous digital age, architect/artist Nuru Karim designs this pavilion as a shout-out to kids to enjoy the pleasures of reading under the sky; encouraging the tactile sensation of holding 'real' books, fostering a deep love for the written word amongst the young generation.
.
.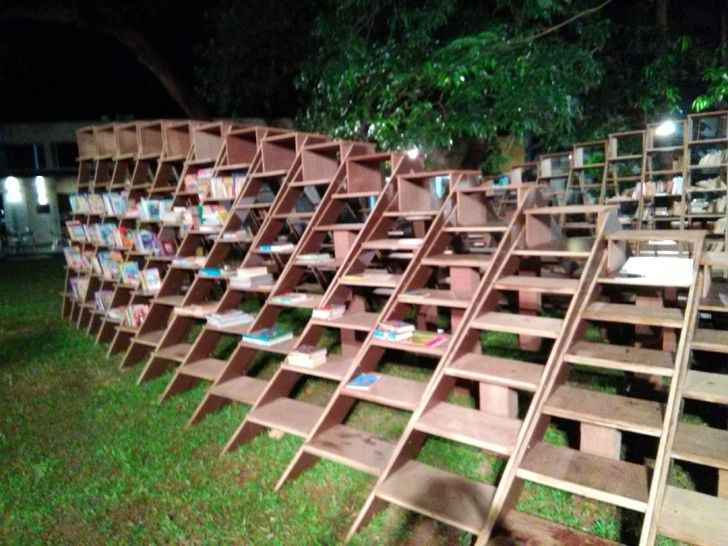 .
The 120 ft. x 40 ft. undulating recycled plywood pop-up structure is modular and 90% prefabricated. Weather-resistant, it comprises a series of ladders that assemble and house books; the concept and construction have taken nine months to accomplish.
It will house books collected via donations for age group 0-18 years
.
Its modularity makes it easily deployable and the overall sentiment is that it travels to semi-urban and rural areas, where kids and adults alike can take advantage of all it has to offer.
.
.
The pavilion could find appropriate housing at public parks, corporate office foyers, gated communities, educational institutes, private libraries, museums, etc. Designed as an ideal playscape for kids, the Bookworm will not just foster the literacy sentiment – as the founding premise purports; but, as child behaviour experts advise, the exercise will definitely nurture a healthier and happier personality and grooming.
Will this pavilion be able to make the desired social impact wherever it travels? Well, only time will tell…
Designed by architect/artist Nuru Karim in collaboration with Priyashri Art Gallery, Mumbai, the pavilion will be stationed at the CSMVS, Mumbai for a duration of two months.