By Shreeta Nair
Photography: Vibhor Yadav; courtesy CDA
Read Time: 2 mins
.
Creative Designer Architects (CDA) creates a fine blend of contemporary and classic interiors for this home-cum-office at Lutyens, New Delhi…
Set amidst a strategically located neighbourhood in New Delhi is this beautifully revitalised 15,400 sq. ft. expansive home cum office of an entrepreneur - an aficionado of the charm and grandeur of classical design.
.
.
.
Originally inspired from the Parthenon in ancient Greece, the dwelling brings to life the classical bungalow with colonnades, open veranda and sloping parapets perfectly blended with an interior ambience that is inspired from the rich cultural heritage that resurrects the essence with which these houses were initially constructed during the British empire.
.
.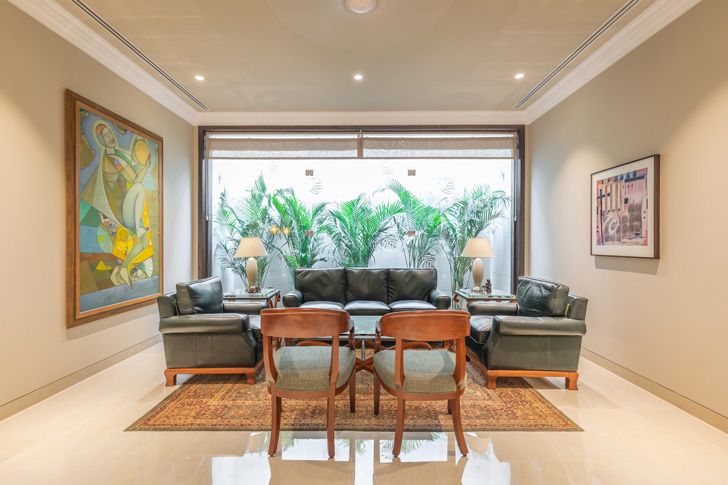 .
.
.
Fine laminated wooden and gypsum finishes are juxtaposed against classical Indian gilds of hand-knotted woollen carpets, while a coalescence of traditional and modernist paintings, classic embellishments, frescos, sculptures and furniture pieces dot the palatial home that is flanked by several meeting rooms and discussion lounges.
.
.
.
.
Once again CDA manages to strike an equilibrium in this dialogue between the contemporary and the classic, by attending to little details – changing the clerestory windows, for example; or orchestrating space settings that evoke the ethos of regal bearings. The contemporary autonomous island bar here merits a special mention for its highly contemporary look and feel; yet its harmonious sync with the rest of the design and décor.
Such details then become the key driver behind the entire refurbishment exercise. The architects strongly believe that "it is almost paradoxical to stick with one particular school or a style of architecture while designing a space which is meant for distinct individuals and function."
The resurrection of this dwelling strives to be a fine precedent to a dialogue that often excites residential designs but creates a radically different result each time.
Architect' Firm: Creative Designer Architects [CDA]
Lead Architects: Maninder Kaur, Mohanbir Singh, Ravideep Singh
Gross Built Area: 15,400 sq. ft.
Project location: New Delhi