Compiled by Team IAnD
Info: Courtesy the architect
Photography: Fabien Charuau; courtesy the architect
Read Time: 2 mins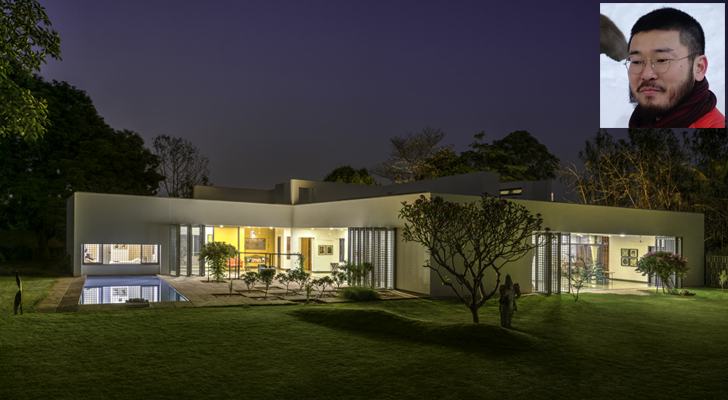 Villa Amaltas (inset) Ar. Katsushi Goto
SquareWorks designs a multi-layered energising home – Finalist in the World Architecture Festival 2019 Completed Projects Villa category - with a tall program of distinct spatial formations, despite circulatory interconnections…
Situated on the outskirts of Vadodara City in Gujarat, this residential retreat christened 'Amaltas' (regional name for a tropical ornamental tree – commonly known as the Golden Shower tree) is tailored to the specific needs of a solitary occupant.
.
.
Spread across a 7000 sq. m plot, the built form demonstrates wide peripheral verandas towards the South and West-facing surfaces enveloping the internal annexes, which radiate outwards from the formal centre of the home; further guiding a user through sequential experiences from public to semi-private, and eventually private areas. On similar lines, the transitions between open, semi-open and closed spaces are structured through a series of courtyards that not only moderate the openness of each space, but also enable natural ventilation and daylighting. Alternately, the eastern side is enveloped by a thick layer of brick masonry which insulates against the harsh morning heat.
.
.
.
The homeowner - a landscape architect and an environment enthusiast, called for a consciously designed ecosystem, integrating multi-layered domestic spaces (a dedicated private zone for self; a semi-private zone for guests; and a public core), coherent materiality, energy efficiency and mobility for the elderly. Apart from the main residence, the layout also incorporates two additional independent provisions to facilitate an office unit and a domestic staff annexe.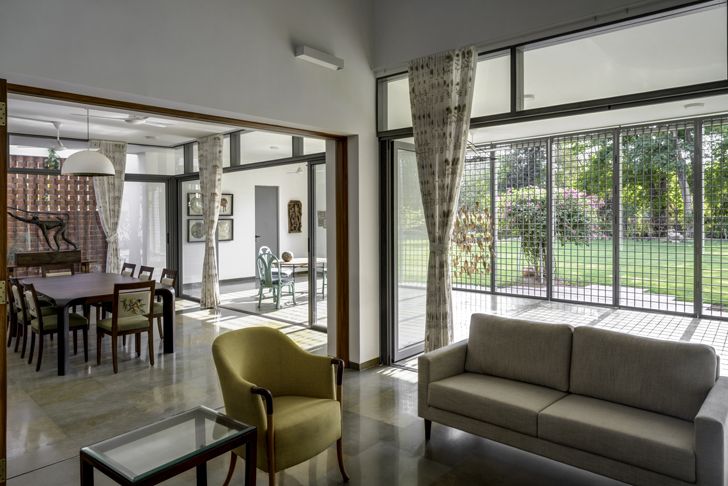 .
.
.
.
So, we see a branched layout with axial routes for circulation that ascertains continuity of movement without interfering with the privacy of allied spaces. Volumes and voids that are interspersed with transparency via glass walls and open-ended unobstructed indoor spaces dissipate the conventional limits of built and unbuilt. The language of the built form extends to chisel the interiors as a series of vertical and horizontal punctures pierce the interlocking planes, superimposing vistas of interiors and exteriors ensuring thorough visual penetration through lines of sight.
.
.
.
Plenty of light and chiaroscuro elements enhance the user's spatial experience within the house as maximum vertical surfaces and niches come alive with the homeowner's diverse and valuable art collection. Complemented by a sensitively applied natural material palette, the home is a sublime setup amidst an otherwise countryside landscape.
Architecture Firm: SquareWorks LLP / Apartment
Principal Architect: Katsushi Goto
Gross Built Area: 890 sq. m.
Project location: Vadodara, Gujarat, India