By Ar. Shreya Kulkarni
Photography: Inclined Studio; courtesy the architects
Read Time: 2 mins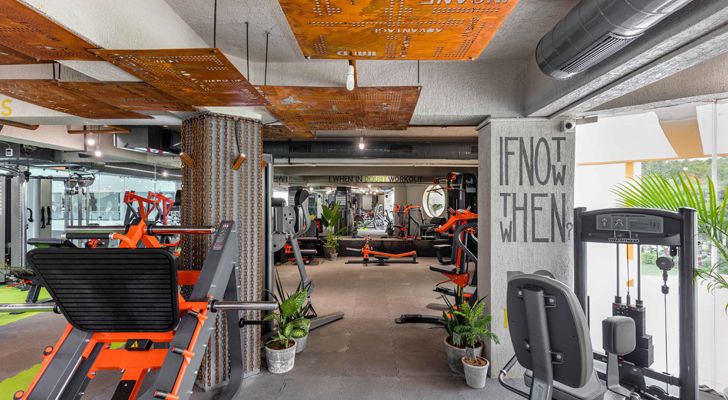 .
The concept of elevating one's spatial experience through a sequential discovery of programs makes for a strikingly ambient fitness centre by tHE gRID Architects…
A strong colour palette of burnt sienna and burnt umber vies for attention with striking lime green in this part-exposed concrete and part-glass envelope of a popular gym in a club in Gandhinagar. Characterised by an open plan, where colour and materiality play a big role in modulating the open volume into a series of smaller, functionally distinct zones, the space comes alive - cautiously sensitive to nurturing both, body and mind.
.
.
.
.
.
Whilst the workout areas for cardio, free weights, benches… are aligned along the periphery, opening to the exterior views, the central zone is relegated exclusively to floor exercises. Other ancillary spaces include a reception, a fresh juice bar, pantry, store, lockers, and washrooms, all designed in sync, blending seamlessly into the largely rustic theme that defines the interiors.
Two glazed walls anchor its relationship with the exteriors; as a large mirrored expanse adds to the transparency and reflection, doubling the space as the interiors are flooded with abundant light alluding to a larger footprint.
On a light-hearted note, and following the rustic thematic, the space becomes interactive and participatory by introducing points of interest within the introverted built environment. A series of recycled Mild Steel pipes and plates form a compositional framework on the ceiling, annointing it with an eye-catching design. The raw appeal is pepped up with inspirational mantras stencilled onto bespoke plates, as they drop down by a few inches at places, casting shadows, visually breaking the exposed concrete ceiling into bays. The encouraging words continue on the concrete beams and columns keeping the trainees engaged and motivated, as the rustic vocabulary continues on some of the columns cladding them with a sheath of loosely falling chains.
.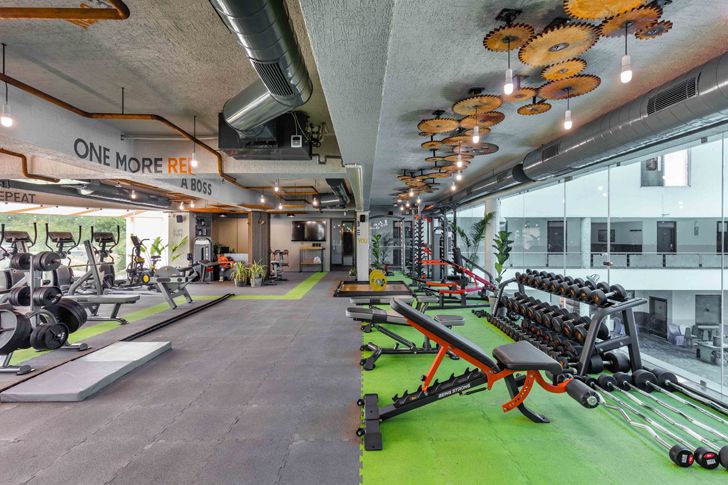 .
.
A mobile sculpture inspired by the traditional method of drawing water from a well stands out in the entire project. This kinetic installation consisting of a series of gears that can be set into motion by pulling a chain roped onto a nearby column, contributes significantly to the organised commotion.
An energetic balance achieved via the harmonious integration of the design, materials, colours, spatial pauses and LED lighting assist in stimulating a dynamic environment, promoting not just good health but also rejuvenating emotional well-being.
Concept & Interior Design: tHE gRID (Snehal Suthar/ Bhadri Suthar)
Principal/ Creative Directors: tHE gRID (Snehal Suthar/ Bhadri Suthar)
Project Team: Snehal Suthar and Bhadri Suthar, Vishvajitsinh Hada, Aanal Shah
Graphics and Creatives: (In House) tHE gRID Architects.
Location: Gandhinagar, Ahmedabad