Compiled by Team IAnD
Info, renders and drawings: Courtesy Sanjay Puri Architects
Read Time: 2 mins
Sanjay Puri Architects' design of the Prestige University building in Indore - Finalist in the World Architecture Festival 2019 Future Projects Education category - employs climate-sensitised architecture, driven by traditional and regional leanings; yet, simultaneously embraces modern societal stipulates…
The Prestige University in Indore is proposed within a 32-acre campus. The program constitutes the main administrative offices along with an auditorium, seminar halls, library and cafeteria.
.
What stands out at the very first glance is that the institutional edifice is unlike the generally observed imposing structures of educational buildings. Instead, a verdant roof cover meets the eye, intriguingly revealing the main building below, as the edifice gradually steps up from the approach direction belying its 20-metre height.
North-East view
East entrance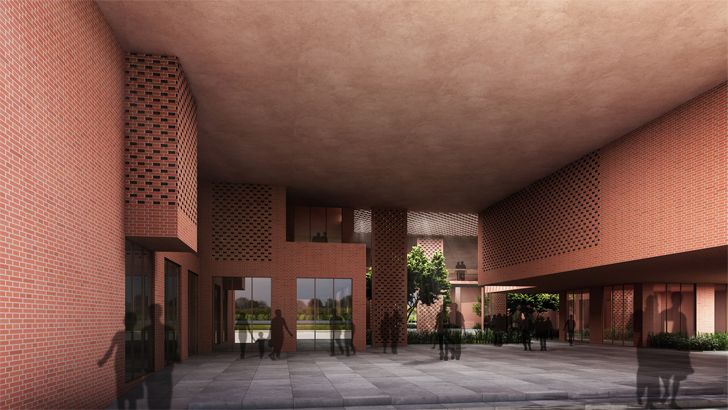 View of atrium from rear entry
Atrium
Stepped up from the northern direction, the entire terrace of the five-level building is accessible to the students and faculty of the university, transforming it into an open-to-sky auditorium amidst a stepped, green landscape. Taking their cue, varied sectional volumes punctuated by landscape create different experiences in each part of the building. A continuous diagonal indoor street juxtaposed against numerous open landscaped courtyards creates an equally open environment indoors, allowing ample natural light and ventilation to infuse the internal volumes at each level. Imbibed from the courtyard typology of traditional Indian architecture, the building relies very minimally on artificial lighting and air conditioning, making it supremely energy efficient. The east, west and southern sides of the building are enveloped with a ventilated brick screen to mitigate heat gain in response to the climate. In this aspect the building architecture responds sensitively to the climate of the city that varies from 30°C to 40°C for 8 months of the year.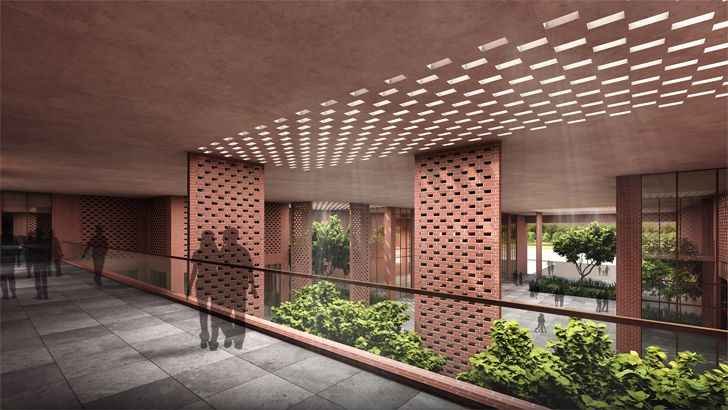 View of atrium from bridge
View from within the food court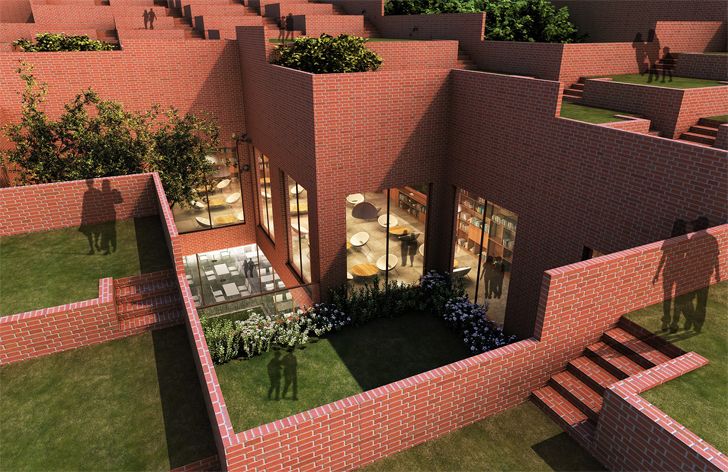 View of internal courtyard from roof
Aerial view of the landscaped terraces
The program:
The common facilities like food court, an auditorium and the administrative offices are located on the ground floor for easy access. The various library components are located on the first floor connected by a bridge over the diagonal indoor street cutting across the building. The common classrooms occupy the second floor deriving light and ventilation from the various sectional volumes and open courts. These open courts act as the spill over area for recreational activities. The third floor houses the tiered classrooms. The fourth-floor houses all the administrative and faculty related facilities. The two large open public spaces with accessible ground floor and landscaped roof serve to tie up the individual volumes.
The building is thus a series of interactive spaces of different scales fostering engagement at various levels amongst the users as well as integrating functional and open landscaped areas intrinsically.
Project: Prestige University
Client: Prestige Education Society
Architects: Sanjay Puri Architects
Design Team – Sanjay Puri, Ruchika Gupta, Manveer Chopra, Devendra Dugad, Suzanna Machado, Omkar Rane
Gross Floor Area: 2,50,000 sq.ft. (23,225 sq.m)
Proposed Completion Date: April 2020