By Marina Correa
Photography: Ishita Sitwala - The Fishy Project; courtesy the firm
Read Time: 2 mins
Pool House (inset)(l-r) Architects Chinmay Laiwala, Tarika Asarawala & Jigar Asarawala
Neogenesis+Studi0261 designs a plush weekend getaway in Surat, opening up the apartment to its highlight - an indoor lap pool right in the middle of the living area!
Located on one of the top floors in a posh residential building, the residence enjoys generous amounts of natural light, ventilation and panoramic views in addition to its highlight – the approx. three-feet deep lap pool that anoints each apartment of the building!
.
.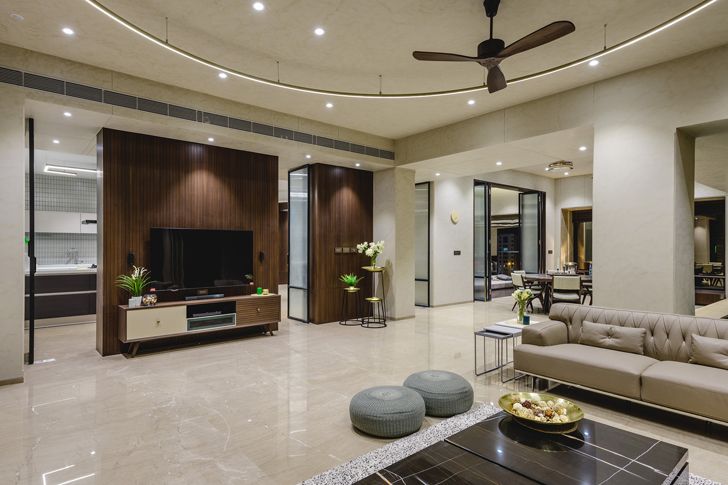 .
Since it is planned as a second home for the family of four, the architects carve out plenty of semi-private areas for socializing, whilst maintaining an informal and relaxed vibe. For instance, an open kitchen with jhoola nearby; guest bedroom overlooking the pool; niche with a comfortable recliner; Indian seating arrangement near a window bay etc. – perfectly facilitate the homeowners' need for entertainment and socialising.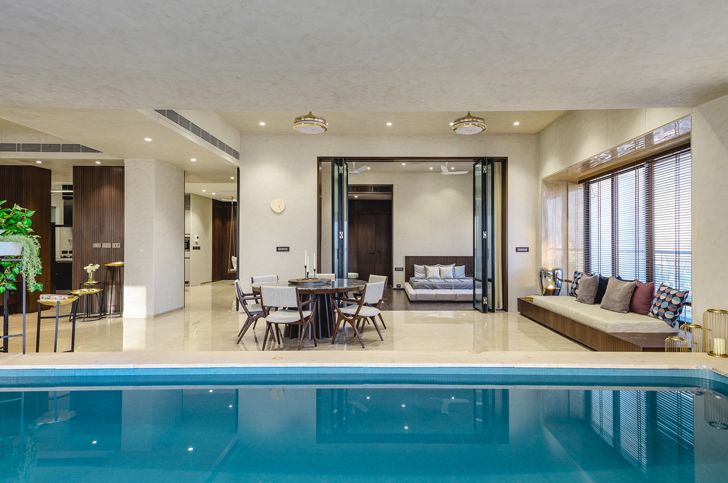 .
.
.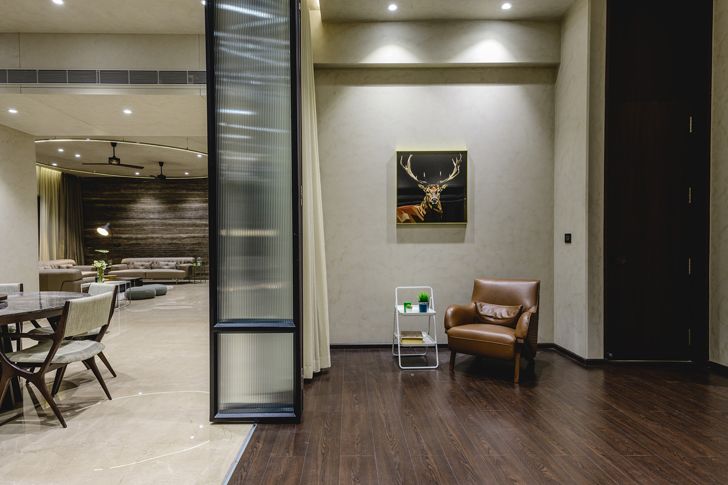 .
Some essential civil changes open up the original boxy layout. Strategically placing furniture as partitions to subtly demarcate different zones adds an out-of-the-ordinary touch, enhancing the overall visual transparency and depth of every area in the home. Floor-to-ceiling windows, uncluttered spaces with touches of greens, a neutral colour palette comprising grey, taupe, white and brown foster a calming and relaxed ambience.
A mix of eco-friendly materials like lime putty-finished walls and reclaimed wood anoint the schematic juxtaposed against luxurious materiality, viz., Italian marble flooring, veneer finishes, highlight walls in Travertine marble… Designer furniture and fittings and even a few custom-designed geometric lights in the living, master bedroom and kitchen areas pepper the home.
.
.
.
.
.
Ushering in a sense of indulgence, the architects endow every ensuite bedroom with walk-in wardrobes by reducing the original four bedrooms to three. Metaphorically, the swimming pool area plays the role of a courtyard – creating an inward-looking ambience for the occupants and guests alike.
Understated chic interiors with attention to detail speak a lot about the architects' diligence as does the design – keeping pace with long-term requirements, where, should the client decide to make this their primary home (in the future), all semi-private spaces are endowed with glass partitions that can easily convert into private spaces, mitigating the hassle of any structural changes.
Design Firm: Neogenesis+Studi0261
Principal Designer/Architect: Ar. Jigar Asarawala, Ar. Chinmay Laiwala, Ar. Tarika Asarawala
Design Team: Ar. Devanshi Parekh, ID. Harsh Gonawala
Carpet Area: 3,200 sq.ft.