By Ar. Vinita Wagh
Photography: SWork Studio; courtesy DFI
Read Time: 2 mins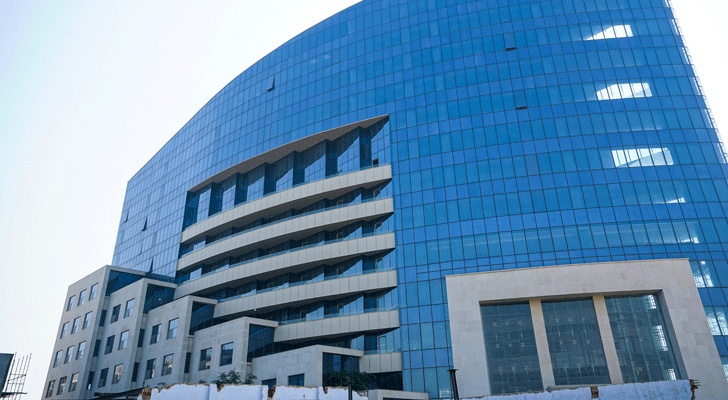 .
With a striking crown rising against the dotted skyline of Gurugram, Design Forum International bestows the Chintels Corporate Park with a unique visual identity…
The design of this boutique office complex sits at the intersection of efficiency and clean, contemporary aesthetics. A distinctive form with multi-volume green spaces and atriums that offset the built mass, the building is a true landmark – a design that intentionally breaks away from the standard corporate aesthetic of quintessential closed-box environments.
Site plan
Positioned on an odd-shaped, trapezoidal plot, the elevation boasts a chamfer – a clean sweep, conceiving a visibly larger building. Drawing the eye to its apex are stepped, green terraces, wrapping along the form, that transition into large deck balconies and terraced lawns. These spaces act as break-out areas and breathers. Sequenced linearly, they make the building appear narrow, slim and sharp.
.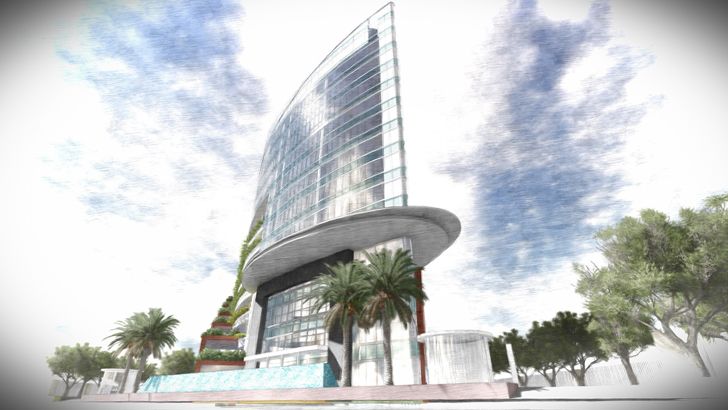 Sketch
Sketch
Sketch
A landscaped entrance emphasised by a pattern of stone and grass leads to a grand foyer. At the lobby level, two atriums steal the limelight, featuring triple-height internal green walls juxtaposed against a plush stone finish. A sit-out terrace on the 9th floor emphasises the connection with the outdoors, while the top three floors embody large terraces of 3000-4000 sq. ft. each.
.
This LEED Gold-rated green building uses high-performance double-glazed glass and suitably designed shading devices. Conscientiously selected to minimise wastage, the panels follow the smooth curve of the building profile. The south and west surfaces have smaller openings and recessed windows and are dry-clad with sand blasted Gwalior stone. Positioned along the external walls, the staircases are naturally lit. While the solar panels on the rooftop generate light for common areas, the basement skylights provide for natural day lighting. With the multilevel car park also featuring green planters, the design showcases an environmentally responsible approach.
Section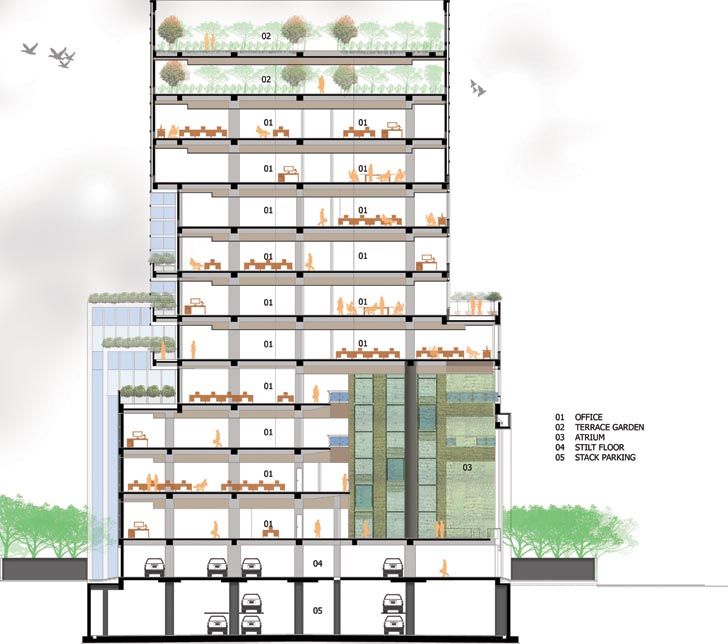 Section
As such, the terraces, built mass and greens harmonise to compose an exclusive portrait, rising high as a landmark in Gurugram.
Client: Chintels India Ltd.
Design Firm: Design Forum International
Principal Designer/Architect: Goonmeet Chauhan
Built-up Area: 3200 sq mt