By Rutvi Ashar
Photography: Prashant Bhat; courtesy the designers
Read Time: 2 mins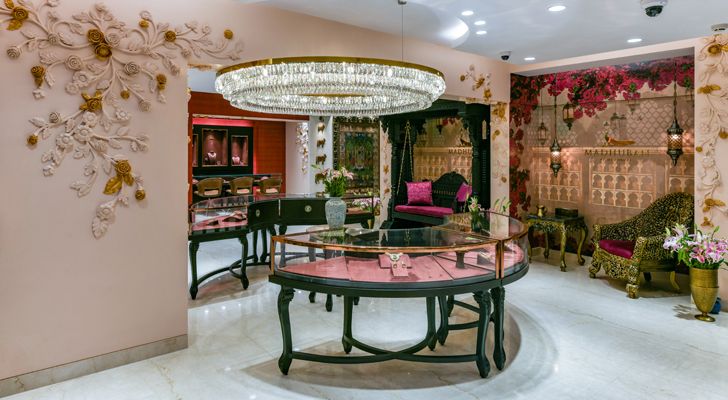 .
Ornate Projects LLP carve out an experiential space wrapped within an uber luxurious jewellery showroom for Manubhai Jewellers in suburban Mumbai…
Retailers are increasingly interested in delivering wholesome experiences instead of just quality products and courteous service. Bending their backs to accomplish this, Manubhai Jewellers join hands with their designers to refurbish their showroom not only to vouch for a highly elevated customer experience, but to ensure that each visitor walks away in awe, cherishing a memory.
.
.
Opulence in the garb of a red interior envelope strategically interspersed with off-white columns and offset by a pristine white ceiling welcome the customer, pepping his entry with a mix of eclectic and traditional elements viz., a traditional wooden jhoola, a massive custom-designed glass chandelier (7ft in circumference with baguette-cut Swarovski crystals), a large miniature-format painting and especially commissioned floral art, dipped in gold, adorning the walls, columns and ceiling - all painstakingly hand-crafted by in house karigars. The design language is straightforward and unmissable: opulence, grandeur and luxe appeal!
.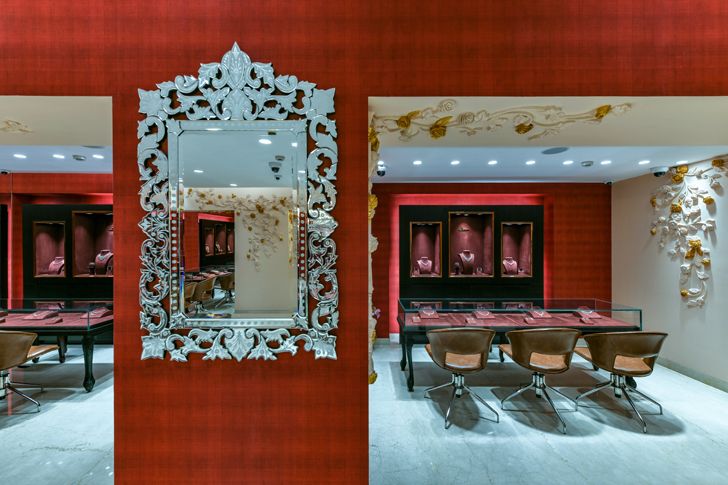 .
.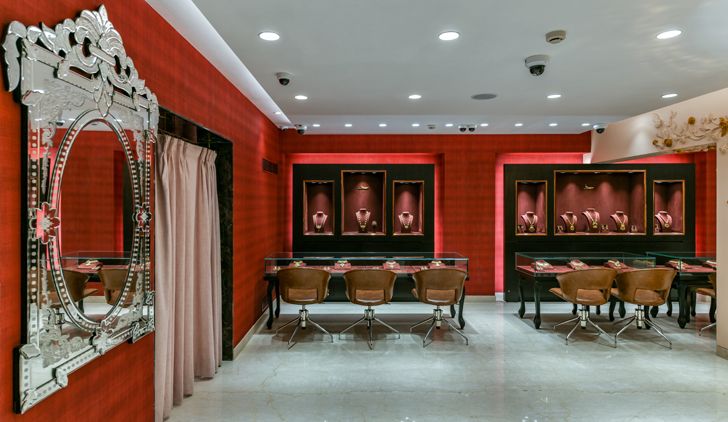 .
.
.
Concentrically, the store is divided into two sections; the interior circle consists of the grand entrance foyer along with circular display counters divided into four quadrants and the outer circle has display units along with the boutique suites and changing rooms. The boutique suites named after the goddess of wealth 'Laxmi': Padmini, Pusti and Padmaja, are laid with limited-edition rose marble, wrapped with floral wallpaper, a wall display of rose wood with rose gold edging and millennial pink chairs. These are conceptualized as private, walk-in capsules for the client to try on designer wear and match the jewellery they would like to purchase for the ultimate experience.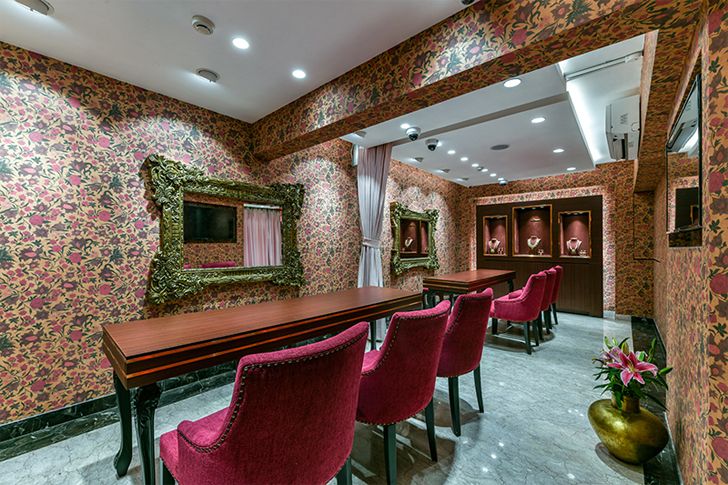 .
.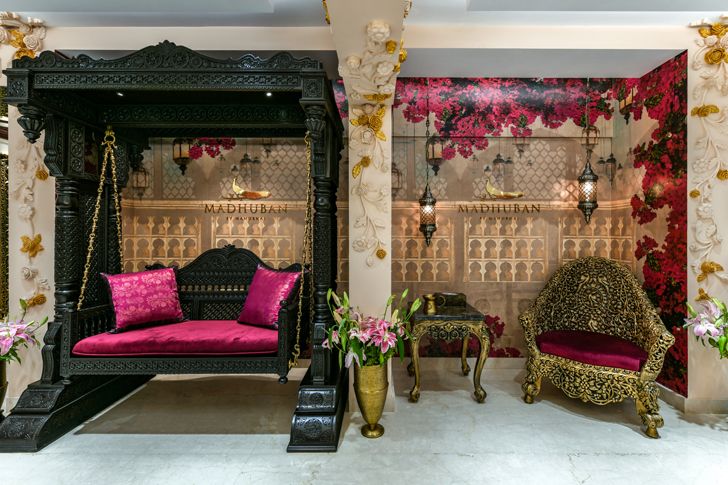 .
Interestingly, amidst the lot already happening in the store, the designers work to facilitate the marketing exercise of the brand by crafting something called an 'Insta-Frame'. Designed to be the perfect frame of pure magnificence and sumptuousness, this urges clients to take pictures and post them on their Instagram handles with the store branding in the backdrop.
.
If opulence is the key to high-end jewellery shopping, the designers have nailed it with this store design.
Client: Manubhai Jewellers
Design Firm: Ornate Projects LLP
Principal Designer/Architect: Pankaj J Popat,
Design Team: Bhakti Bhojwani and Deepak Panchal
Built-up Area: 3000 sq. ft.
Carpet Area: 2500 sq. ft.
Location: Borivali, Mumbai