By Ar. Bineeta Ghoshal
Photography: Prashant Bhat; courtesy G A Design
Read Time: 2 mins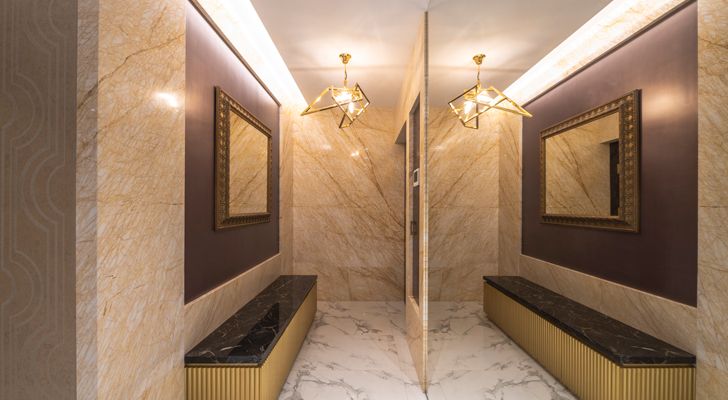 .
Ar. Sachin and Shami Goregaoker of GA Design craft a luxury apartment infusing favoured shades with an evident sprinkle of gold in its environs…
Residential design is a reflection of the client's ultimate desire and the precision of composition implemented by the architect. The Gold Dust luxury apartment is one such abode.
Located in a lavish housing complex in suburban Mumbai, also designed by the same architects, the 2000 sq. ft., four-bedroom apartment is composed around the client's favoured colour palette and carefully chiselled to integrate understated flamboyance into its makeup.
.
.
.
The space planning is altered supplementing one of the bedrooms adjoining the living room with the dining area and bar, whilst the blueprinted dining area is transformed into an intimate entertainment den.
The home opens into an open plan that subtly segments the living from dining; and entertainment den from the puja zone. Panelling from floor-to-ceiling combines with screens and cabinetry to demarcate zones. Marble, onyx, wood panelling and sleek PU finishes abide. With turquoise blue being a favourite, living room sofas, dining chairs and the kid's room sport beguiling shades of blue. The master bedroom in a monochrome ensemble with a splash of red underlines the signatory sophistication that the home exudes.
.
.
.

Woven diligently and smartly into the schema is the use of gold: golden-base dining table; a console with shutters finished in a checkered pattern of gold, silver and ivory; pattern in golden triangles and veneer at the entrance; accents in screens using gold and glass; round crystal and gold chandelier; gold matt paint; glass tiles specifically designed and customized in black and gold; curtains in gold thread with sequins which glitter even in daylight; side tables and accessories in polished gold, and the like… integrate the gloss of the metal without being in-the-face.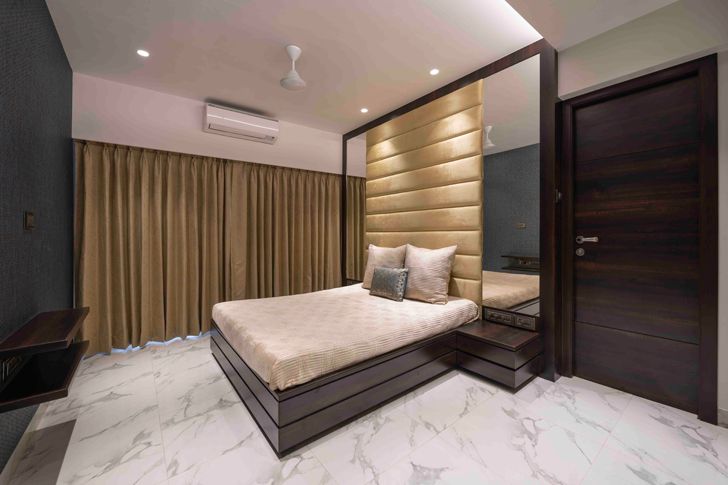 .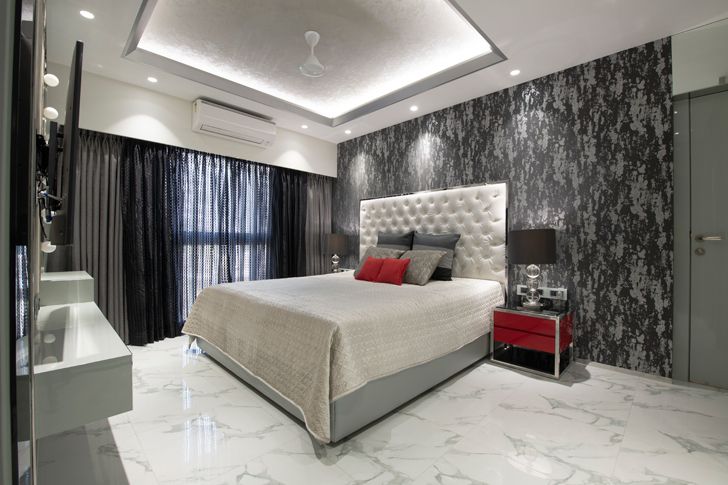 .
.
Despite the variation of the styles portrayed, there are marrying features that weave the design into a single thread. Each of the spaces has a predominant colour that complies with the omnipresent shade of gold. The guest bedroom too has a mesmerising touch of shimmer complemented by veneer and matt textures.
Posing for exuberance, the children's bedroom is anointed in a style that distinctly stands apart from the rest of the home.
Opulence takes the front seat. The aptly named Gold Dust apartment serves as a spectacle of luxurious planning and a chic essence of space craft.
Design Director: Shami Goregaoker
Principal Architect: Sachin Goregaoker
Built-up Area of project: 1820 sq. ft.
Carpet Area of project: 1590 sq. ft
Location: Raheja Ridgewood, Goregaon, Mumbai